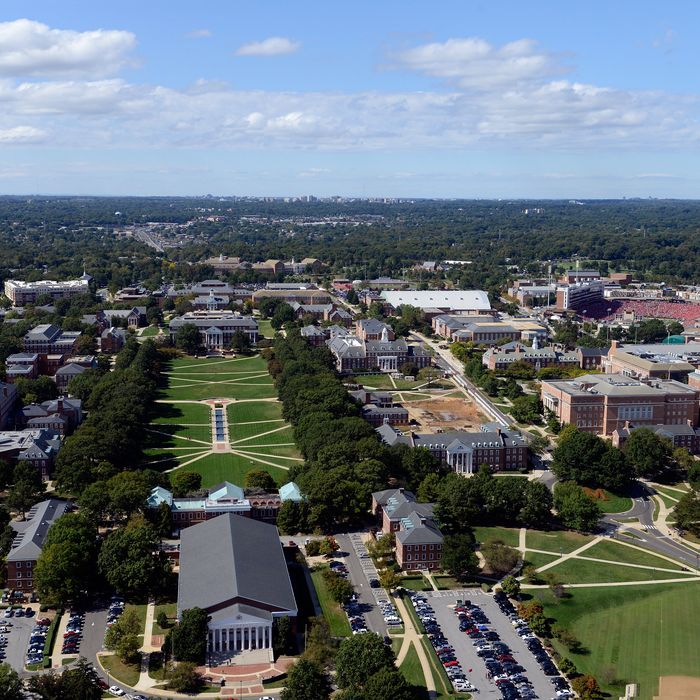 University of Maryland.
Photo: G Fiume/Getty Images
Students at the University of Maryland may soon be charged a $34 fee to fund the school's office that oversees sexual assault and discrimination complaints.
The student government approved the mandatory fee at a September 28 meeting, and it will be implemented next fall if the university president and Board of Regents also approve it, BuzzFeed News reports. The school's Title IX director, Catherine Carroll, complained that her office wasn't adequately funded, even though it was mandated by the Obama administration.
Carroll reportedly needs to hire more staff members to handle the increasing amount of sexual misconduct complaints the office has been receiving. The Title IX office was set up two years ago, and its budget has grown from an initial $643,000 to more than $1 million. However, the budget doesn't cover the office's hiring needs. "My people are burned out," Carroll told BuzzFeed News.
The Student Government Association's vice-president of student affairs A.J. Pruitt, a junior at the university, told BuzzFeed News that he felt he had no other choice but to sponsor the measure. He said:
"The university has failed in their responsibility to fully fund this office. By putting in a proposal to add an additional fee — that's placing another financial burden on students. It's not something I'm excited about, but it gets us to fully funding the office in a short amount of time."
Currently at the University of Maryland, each investigation into a sexual misconduct case takes an average of 140 business days, which is far above the Obama administration's recommended 60-day limit. At a Student Government Association meeting, Carroll reportedly called the time frame "unacceptable" but said her office has a limited capacity to respond.