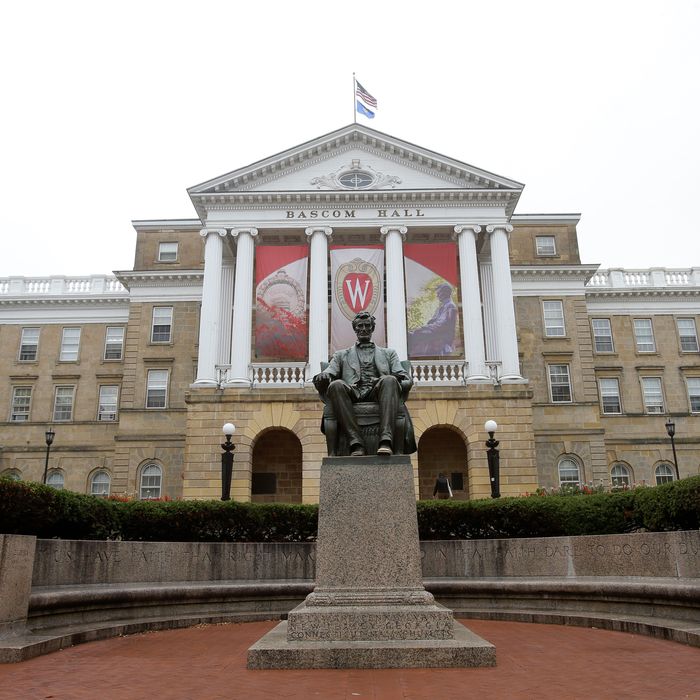 University of Wisconsin-Madison.
Photo: Getty Images
After a female student at the University of Wisconsin–Madison reported to police that 20-year-old student Alec R. Cook had allegedly sexually assaulted her, "dozens" of others have come forward to speak out about "acts relating to Cook," the Washington Post reports.
The student claims that she and Cook had hung out several times in public before going to his apartment, where he allegedly started forcibly kissing her without consent, and initially wouldn't let her leave. Cook's lawyer denies the incident occurred, but once news spread around campus that he had been charged, other accusers came forward, according to WKOW-TV. One of them told police, "I saw the news story and was empowered by another girl being able to tell what happened to her, that I thought I could now finally tell."
Police now believe Cook has been sexually assaulting women since March 2015, Dane County prosecutor Collette Sampson told the Post. When searching Cook's apartment, police found "20 notebooks" with at least one containing "grooming and stalking techniques," Sampson said, alongside women's names. Quoting a police affidavit, Sampson continued:
"'Each entry showed how he met the female, and what he liked about them. Further entries went on to document what he wanted to do with the females. Disturbingly enough there were statements of 'kill' and statements of 'sexual desires.'"
Lori Berquam, dean of students, issued a statement on October 21 saying, "Based on the severity of the allegations and the potential impact on the campus community, the university is disclosing that this student is under emergency suspension from the institution." The Post noted that if the allegations are true, this may be the "most serious case ever" of sexual assault at the campus, which has nearly 43,000 students.
Students have been writing "open letters" to Cook on Facebook since the news spread. One student wrote that she felt "quietly afraid" of Cook at a party, according to NARAL Pro-Choice Wisconsin. "We never spoke or interacted, but seeing you walk back and forth, exerting your alpha male presence and mass from room to room made me stand a little closer to my boyfriend, willing you to go away," the letter said.
Cook is currently being held at Dane County jail without bail, and has a hearing on Thursday. He has not yet been convicted of anything, and has reportedly denied the allegations. His attorney, Chris Van Wagner, told the Wisconsin State Journal that he was disturbed that a "media firestorm" on social media may have prompted others to come forward, and called much of what has been said about Cook "character assassination."