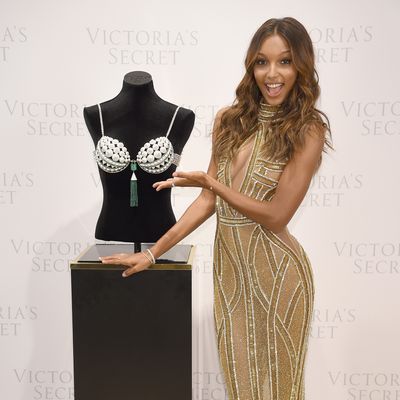 That's a $3 million bra that Jasmine Tookes is drawing your attention to.
Photo: Dimitrios Kambouris/Getty Images for Victoria's Secr
It's no secret that a lot goes into the Victoria's Secret Fashion Show. We're constantly reminded of the models' restrictive diets, their intensive workouts, and their utter joy/tears/shock at being cast in the show. And now we know the kind of patience and stillness they must possess in order to get fitted to wear those expensive bras down the runway. (Hint: It's a lot.) To get the right measurements for a single bra, one model had to sit still, covered in plaster, for three hours.

The model in question, Jasmine Tookes, endured three hours of living like a statue earlier this year as she needed to maintain utterly still for the plaster to dry. "I almost couldn't breathe because I'd move too much and it'd mess up the measurements," she told Elle. To be fair, this wasn't for any single bra in this year's Paris show. Tookes will wear the jewel-encrusted $3 Million Fantasy Bra. It's an honor that's been bestowed upon other legendary VS models like Gisele Bündchen and Heidi Klum. This year's bra sounds pretty heavy at 450 carats and Tookes told Elle that she's not taking any chances. She's been training her back to "keep it upright." Let's hope no Angels are hurt in the making of this VS show.