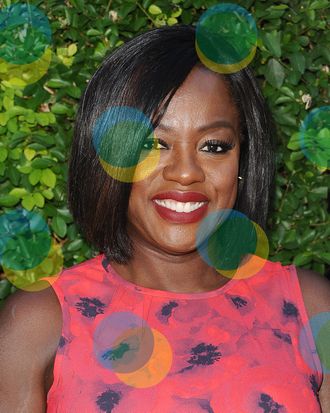 Viola Davis.
Photo: Getty Images
Annalise Keating, How to Get Away With Murder's simultaneously adept and self-destructive protagonist, knows pain, and so does Viola Davis. Which is why at a free health fair in Rhode Island last weekend, where the actress held center court in her role as Vaseline's Healing Project spokesperson, the subject felt especially fitting. Speaking with the Cut, Davis reflected on the gravity of acknowledging pain, especially through the lens of black womanhood. She also spoke on the importance of accepting the inevitability of failures, and on a much lighter note, the famous names that populate her black-girl-magic group text.
Black pain has been the topic of discourse more than ever — specifically, how black people can internalize external forces like racism that in turn can develop into physical ailments. A number of "healing" solutions like yoga classes and emphasis on self-care have sprouted, partially in response. Looking at that, what frustrates you and what gives you hope when it comes to black women in particular and how we prioritize our health?
The biggest issue for me in being a black woman and the way it manifests itself in narratives, too, is that you always see the strong black woman. It's an image that we hold tried and true. Whenever a character is shown as what we would call "weak," we deny, we reject. That is our problem.We need a new definition of what strong is. For me strong is owning my story. Strong is also owning my pain and acknowledging it. Acknowledging when things hurt me and to embrace failure. If I were to look at the whole of my life, 90-some percent is failure. Not as a bad thing, as a learning tool.
My beacon of hope is my understanding of, like Brené Brown says, "the gifts of imperfection." It is our ability to own our stories and to share our vulnerabilities that connects us as people. Not everyone has the right to hear your story. But you absolutely have to own it. It's the rejection of the parts that don't sound great that has been instrumental, I believe, in taking us down as black women.
"Embracing failure" certainly deviates from the #BlackGirlMagic message that's so popular now.
I think it's a reaction to how we have been portrayed in the past, which has been as victims of abuse, subservient women, women who aren't beautiful. It's our way of responding to that.
But if you have a lived a life for more than two minutes, and the only thing you're talking about are your successes and how strong you are, then there is a 100 percent chance that you are absolutely lying. You are either going into something, getting out of something, or about to go into something. You're going through a divorce, a breakup, insecurity, being fired … something has happened to you or it's getting ready to happen to you that will bring you to your knees. It's the sucking it up and the denial that is in no way magic.
Black girl magic to me is saying: You know what, I'm hurting, but I'm trying to find a way through it. To get to a place of grace, to get to a place of forgiveness, to have a moment of joy, to be open to someone else, to remain alive. I think that's black girl magic. Lisa Nichols says if you're afraid of something, do it afraid. If you don't want to jump because you're afraid, jump afraid.
How do you practice self-care?
Right now is the best part of my life because I have embraced the power of no. I have embraced the power of boundaries. I have so many people coming at me with so many causes, and I understand my limitations as a human being.
Self-care for me is also finding any moment I can to myself and embracing being alone. I don't judge what that alone time is. I don't try to make it pretty. I love going grocery shopping. I love going to Target. I don't like wearing makeup or hair. I like wearing my hats. I like sitting in my tub for hours with water and trash magazines. I like watching Real Housewives shows. I like sitting in my steam shower and I like sitting in my Jacuzzi. That's what I like doing.
You mentioned that you used to suffer from low self-esteem. How did you find a way out of that?
For me, it's a work in progress. It's not a thing where you suddenly cure it and you arrive at something. You can take five steps forward and suddenly something happens, some incident where you're in some situation that starts it all over again. What I've done lately is this: I know I'm not the best, I get it. I know that there are better actors out there, there are probably better mothers and better wives out there I'm sure, but in terms of my work, I deserve it. I've been out there for 30 years and I'm not using self-deprecation as a way of keeping me humble any longer.
What I will say is that I deserve everything that has come to me. I'm not saying that no one is better than me, that's not what I'm saying. I'm saying that whatever has come to me, has come to me after years and years of pounding the pavement and struggles and scars and all of that. I have done the work, I deserve it.
And let me tell you something: the more I say that, the better I feel about myself.
I have a theory that most black women are part of a black-girl-magic email chain or group text. Does this ring true with you?[Nods yes.] My friend Angela Bassett just sent me something about her skin-care products and I was like, "I love you, I love everything you do blah, blah, blah, blah," and she was like, "I love you back." Nicole Beharie, especially if I say something like at the Emmys, will say "Thank you so much" or "I appreciate that, I appreciate this." I'm like, "Okay girl, you know we got to stick together."
I'll tell you who I have all the time is Octavia, Octavia Spencer — [The Help characters] Minny and Aibileen. She would probably hate that, but she knows I love her more than anything in the world. Anything that's going on with anyone [mimics texting] "Girl, that's what I thought!" "Yeah, that duh, duh, duh, duh … okay! I'll talk to you later. Come over to the house, let's get something to eat, blah, blah, blah."
And then I'll do Meryl Streep. We'll talk about anything. When Suffragette came out, we were trading texts back and forth. I lift her up. She lifts me up. I tell her: "Don't listen to those people, you are perfect. Everything you said is perfect, don't apologize!" And then she'll say: "Oh I love you" and "I love you too" and we'll keep it going.
This interview has been edited and condensed.