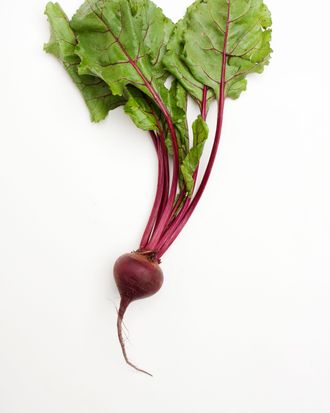 Photo: Lars Klove/Getty Images
Today, Vogue.com took a brief respite from instructing us on how to do all things like a French girl to give us some tips for celebrating l'Américain holiday of Halloween the Vogue way. For starters, forget about pounding Reese's in your sweatpants, and instead consider replacing your candy with actual vegetables.
In "How to Make Your Own Healthy Halloween Candy," Vogue tapped various chefs for more nutritious alternatives to standard trick-or-treating fare. It's innocuous enough, until you realize that sandwiched between the coconut-oil chocolate bark and quinoa crispy brownies are, well, just some friggin' beets!
Chef Marcel Vigneron recommends steaming baby beets, putting them in a dehydrator overnight, and serving them alongside some plums and figs, which are fruits but, crucially, still not candy. "It's almost like a sweet vegetable gummy candy, and you don't feel guilty eating it!" he exclaims.
Marcel, with all due respect, non!