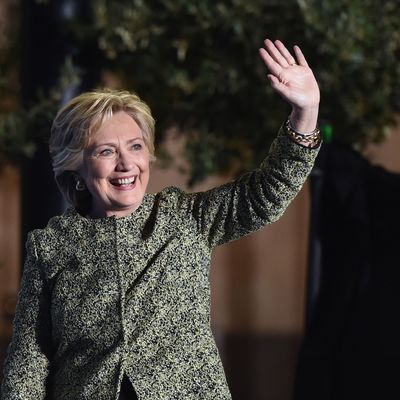 Hillary Clinton has a leg up with parents who have only daughters.
Photo: Ethan Miller/Getty Images
Over the past week, several women have come forward with accusations that Donald Trump touched them inappropriately and without their consent. This, along with Trump's history of sexist comments, has made the treatment of women an issue at the forefront of the presidential election. And it's impacting the polls.
One new poll from the Washington Post and ABC News asked respondents the gender and number of their children to see whether that had an effect on which candidate they support. And, after analyzing the data, the Post concluded that people with daughters are much more likely to support Hillary Clinton.
It's important to point out that this conclusion only applies to people who just have daughters and no sons – among that group, Clinton led Trump by a margin of 58 percent to 37 percent. But when respondents had a son in the mix, they were less likely to support Clinton than Trump, and her support dropped even more among families with only sons.
Fifty-six percent of people without kids were likely to support Clinton over Trump, which, as the Post points out, speaks to her popularity with younger people, who tend to be more liberal.
There also wasn't much evidence to back up the idea that Clinton's support among people with only daughters has anything to do with the way Trump talks about women. From the Post:
Parents of only daughters are no more likely than voters overall to say Trump's videotape comments made them less likely to vote for him (33 percent for daughters-only parents vs. 35 percent for all voters), nor were they much more likely to say that Trump's treatment of women is a legitimate issue in the campaign (56 percent vs. 55 percent). Parents of only daughters were slightly more apt to say Trump's apology was not sincere (64 percent vs. 57 percent), but no more apt to say his comments went beyond the way men typically talk about women (51 percent vs. 52 percent).
But whether or not they had daughters, voters agreed that Trump's treatment of women is a legitimate issue in the election.