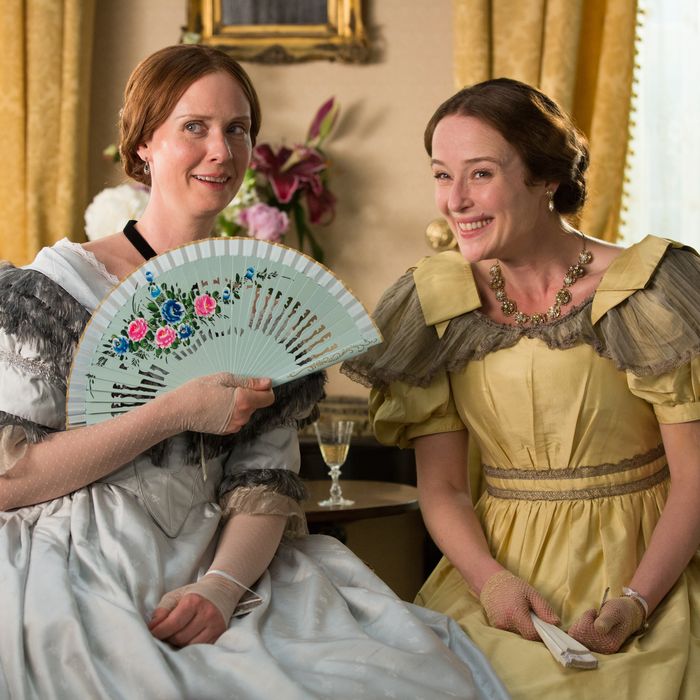 Photo: Johan Voets/Music Box Films
Director Terence Davies paused on the red carpet at the New York Film Festival on Wednesday night to discuss A Quiet Passion, a beautiful biopic starring Cynthia Nixon as Emily Dickinson. Dickinson is portrayed as a driven poet whose quick wit, incredible creative drive, and family loyalty evolves into an anguished loneliness that borders on self-loathing.
What A Quiet Passion doesn't touch on is more modern questions of Dickinson's sexuality and her more-than-a-crush on a visiting (and married) reverend. Her sister-in-law, Susan Gilbert (portrayed in the movie by Jodhi May), alludes to being gay herself, but her longstanding friendship with Dickinson isn't explored. Neither is the trove of letters Emily sent Susan over the years, which some have interpreted as romantic in nature.
According to Davies, it doesn't matter. "If the love that is within you can't be reciprocated by someone else, whether it's the same sex or whether it's someone else, that's hard to live with. It's very, very hard to live with. And she says, you know, 'I've become bitter.' Because when you have that need and it is denied, that's the thing that you want most of all."
What we can learn from Dickinson, who is only recently shedding the image of a spinster, Davies says, "It's courage to carry on in the face of that, to say, 'These are the cards I've been dealt. I'm going to get on with it.' And my mother did that, and so I do love that, when people do that, but of course she was envious, of course she was bitter, of course she was sad about all those things. Who wouldn't be? She was a human being. And the one thing that's saddest of all is that I did want her bread to win first prize, not second prize! Can't she be at the head of the queue just once?"