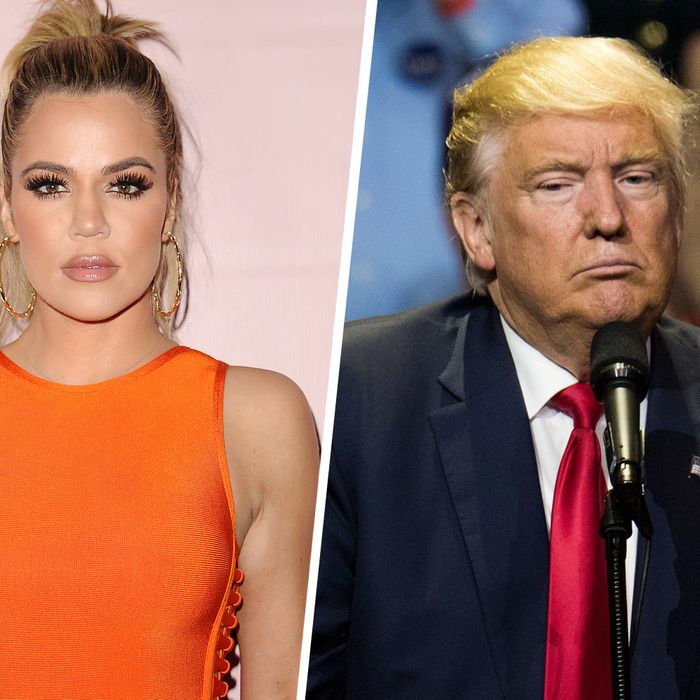 Khloé Kardashian (left) and Donald Trump (right).
Photo: Getty Images
Khloé Kardashian was reportedly fired from Celebrity Apprentice in 2009 after Donald Trump complained to producers about her weight, sources told the Huffington Post.
Trump reportedly made the remarks about Kardashian's looks off camera, before filming the scene in which he "fires" the episode's poorest performer. At least three sources said that Trump wanted her gone from the show — not on merit, but because he didn't like her or the way she looked.
Two of the sources told Huffington Post that Trump referred to Kardashian as a "piglet" and that he complained that the show should have hired her "hot" sister, Kim Kardashian. Another source said that Trump asked staff members, "What's the reason we can get her off [the show]?" Trump, apparently, decided to fire her for missing out on some of the previous week's competition to attend a mandatory class stemming from her DUI arrest, according to People. As he was firing her, Trump said, "I hate people who drive under the influence. I know three families who lost children to drunken driving."
After Kardashian was dismissed, she reportedly wrote on her blog, "I don't think I should have been fired for that reason alone." Meanwhile, her sister Kim wrote, "She obviously made an awful mistake but definitely has taken responsibility for her actions and we are all very proud of her."