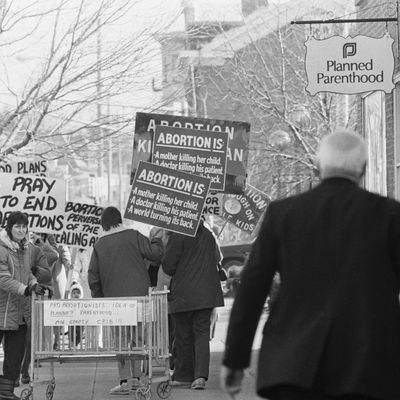 Photo: Bettmann Archive/Getty Images
Ronald Yeomans, M.D., could be playing golf right now. Instead, the 75-year-old abortion provider wakes up early on Saturday mornings in the suburban house he shares with his wife of 53 years, straps a bulletproof vest to his chest, and makes the short drive to the Planned Parenthood clinic in Overland Park, Kansas, where a crowd of 20 to 30 protesters is already waiting. As soon as Yeomans — lovingly known as "Dr. Y" among clinic staffers — pulls into his parking space, a security guard meets him and escorts him into the building, past another guard holding a metal detector. The protesters will stay put for a few more hours, eventually thinning as the afternoon approaches — but not before terrorizing dozens of women and their companions as they enter the clinic, creating a physical obstacle for them to push through.
One hundred years after the creation of Planned Parenthood, which celebrates its anniversary this month, this is the state of women's health in Kansas. There are currently four abortion clinics in Kansas, two of them run by Planned Parenthood, meaning that fewer than 5 percent of the counties have a place for women to go. Some women seeking the procedure are forced to travel long distances, and all are subjected to a state-mandated 24-hour waiting period — despite the fact that research shows women who seek abortions are certain in their decision to terminate a pregnancy.
It wasn't always this way. Yeomans, who was raised in a small, predominately Baptist town in Missouri by a Methodist mother and agnostic father, began his OB/GYN residency in 1970 — three years before Roe v. Wade — and remembers when abortion was legal in Kansas but not yet secured at the federal level. Until the ultraconservative anti-abortion movement took hold in the '90s (and gained momentum when Kansas governor Sam Brownback took office five years ago), "All you had to do was make an appointment and come in, sign your papers as you would for any other surgery, and that was it," says Yeomans, who first started with Planned Parenthood in 1997, after working at other clinics. "Abortion was just treated as a medical procedure, which it is."
Earlier in Yeomans's career, there was reason to be optimistic that access to safe, affordable, reproductive health care — and the doctors who practice it — would increasingly be protected. In 1969, not long after Yeomans graduated from medical school at the University of Kansas, Kansas became one of ten states that made abortion legal when a woman's life was in danger, as well as in cases of fetal abnormalities, rape, or incest. That was two years after Time published a cover story on the birth-control pill, and three years after the National Organization for Women was founded to push for feminist legislation. "I was well aware of Betty Friedan and Gloria Steinem, and what was going on with women's rights," he says. "I was certainly supportive of all that. But I was probably not as politically involved back then as I have become over the past several years, because at the time I didn't sense there was as much of a threat."
Already a self-declared feminist, Yeomans joined the Public Health Service before his residency — in part to avoid the Vietnam War. "I didn't believe in what we were doing in Vietnam, or killing or dying for Lyndon Johnson's ego," he says. During his time in the service, he often found himself prescribing birth control to female patients, which got him even more interested in women's health.
"I thought women should have the right to make their own choices, and by doing what I did — by being involved in the abortion area and contraception area — I felt that I was supporting women's rights," says Yeomans. (His wife, Helen, was also vocally pro-choice.) He returned to Kansas to begin his OB/GYN residency and signed up for the hospital's optional abortion-training program. Three years in, the Supreme Court ruled on Roe v. Wade, making abortion legal nationally. "I was shocked," he says.
"Shortly after, a lot of clinics sprung up all over the country," Yeomans adds. Indeed, the number of abortion providers in the U.S. jumped from 1,558 to 2,526 in the three years following Roe, according to the Guttmacher Institute.
But then — a switch flipped. After topping out at almost 3,000 providers in 1982, that number steadily declined, dipping to 2,380 in 1992 and 1,819 in 2000, finally falling to 1,720 in 2011 — the last year for which data is available. The Religious Right, which pushed conservative and specifically anti-abortion policies, gained influence in the '70s and snowballed in the '80s, and the Republican Party became firmly anti-abortion. Throughout the decade, President Ronald Reagan, who had passed an important piece of pro-choice legislation as governor of California, also positioned himself against the procedure.
Around the same time, threats and vandalism intensified. While there had always been a certain level of harassment — Yeomans recalls how, in the '70s, a fellow doctor occasionally woke up to find garbage dumped on his lawn — by the '90s, it was much worse. The rhetoric of the Religious Right eventually led to the creation of extremist groups like Operation Rescue. The organization's founder, Randall Terry, was known for repeating the motto, "If you think abortion is murder, then act like it's murder." The phrase was a battle cry for members, who attacked clinics and targeted abortion providers. Yeomans would ultimately find picketers on his lawn while he, Helen, and their two children tried to eat breakfast.
"When the kids were teenagers, maybe they were a little bit more concerned, but I think they were kind of proud of what I was doing and that I would stand up for what I believe in," says Yeomans. "One time, three of [the picketers] came up to my door." Yeomans ended up engaging with them in a theological discussion. "They were trying to force their view on other people, and I told them there are many different religious viewpoints and there's no reason to believe that one has all the answers. With hundreds of different religions in the world, how can we say that one is right?" By the end of the encounter, one of the picketers was apologizing.
Yeomans says protesters also sent letters to his neighbors telling them that a murderer lived in the neighborhood. "My next-door neighbor was a retired minister, and I think he was more offended by the postcards than I was," he explains. "I just said, 'This is who they are. This is what they do.'" Still, the neighbor notified police of the harassment, and eventually laws were passed prohibiting picketers at private residences.
The clinics where Yeomans worked were also targeted. "There had been at least one nighttime drive-by shooting, when they shot out some windows," says Yeomans. "Another time we arrived in the morning to find that the locks were superglued." In the '90s alone, anti-abortion extremists carried out 110 arson attacks and bombings on abortion clinics throughout the U.S., according to the National Abortion Federation, an advocacy group that has been keeping track of violence against abortion providers since 1977. It was a sizable jump from the 68 attacks that took place in the '80s, especially considering that there were more providers at that time.
The violence took an even scarier turn for Yeomans and other physicians and clinic workers when, in 1993, David Gunn, M.D., an abortion provider in Pensacola, Florida, was shot three times in the back and killed by an anti-abortion extremist in the clinic's parking lot. By the end of the decade, six other physicians and staffers would also be murdered by anti-abortion extremists.
But it wasn't until after 2009, when Yeomans's friend and Kansas University Medical School classmate George Tiller, M.D., was shot in the head while attending a church service in Wichita, Kansas, that Yeomans himself began wearing a bulletproof vest. (Tiller had also been wearing a bulletproof vest when he was murdered.)

"I think everybody who performs abortions felt violated by [Tiller's murder]. All of the clinics, all of the people who work at the clinics, felt violated by that," says Yeomans. "It didn't change my resolve to do what I do, though. It was important to me not to let other people dictate my life and my beliefs and what I do with my beliefs."
Yeomans and his security detail now make the roughly three-hour drive to Wichita at least twice a month to help provide abortions for women in the area; otherwise, it's the patients who would be forced to travel long distances. "It's one of the more potentially dangerous areas to go," he says. While Yeomans doesn't read what anti-abortion websites write about him, the clinic's security staff keeps tabs on what's being posted, should there ever be a direct threat. And some threats unfortunately can't be avoided — like several years ago, when a picketer approached Yeomans as he walked into a clinic.
"I said something like, 'How would you like it if I picketed your church?'" says Yeomans. "He responded with, 'How would you like it if I shot you?' At that point, clinic security stepped in and eventually the FBI did an investigation on the guy. Turns out, he was a convicted felon."
Except when remembering Tiller, Yeomans is nonchalant about the strangers who hate him. He sighs and sometimes even laughs talking about their attempts to scare him over the years. "I've always known since I started performing abortions that there was some chance somebody might try to kill me. On the other hand, there are lots of other dangerous professions. Your chances of getting killed in the military are higher than an abortion provider — or a policeman. There are lots of professions where there is some level of danger."
Still, ask Yeomans about the most frustrating parts of his job, and harassment is at the bottom of the list. Far more troubling for him are the roadblocks Kansas lawmakers, led by Brownback, have created for women seeking an abortion not only in Kansas, but also in Missouri. (The Planned Parenthood in Overland Park is right near the states' borders, and is closer for many women in Missouri than other clinics.) Since 2011, Brownback has signed bills that could make what's supposed to be an accessible, legal procedure feel sketchy, if not criminal.
Today, abortion in Kansas is illegal after the 20-week mark except in cases of life endangerment — well before viability. Public funding of abortion is restricted, and private-insurance coverage is limited, which particularly hurts low-income women. There is a mandatory 24-hour waiting period after counseling, placing an undue burden on patients who have to take time off work, find child care, or cover extensive travel costs twice in order to have an abortion (also especially challenging for low-income women). Minors seeking an abortion are required to have consent from both parents — not just one parent, as 18 other states demand, or notification only, which is the standard in 11 other states — a major barrier in cases of abuse or incest, or if said parents are anti-choice. "Not only that, but if you sign your papers at home and the papers aren't quite right, you have to make another trip. Or they take a consent form from one state to the other state and we can't accept it," says Yeomans.
If that list of obstacles doesn't exhaust you, there's more: Providers must conduct an ultrasound prior to the procedure and offer to show the images to the patient, regardless of her wishes. And both pharmacies and pharmacists can refuse to administer the abortion pill due to personal beliefs. Kind of like if your local pharmacist refused to give you penicillin, because he or she didn't believe in antibiotics — you know, personally.
"I have no respect for this governor. He's certainly no friend to women and women's rights," says Yeomans, one of three physicians who fought restrictions passed in 2011 requiring abortion clinics to meet the same expensive — and medically unnecessary — standards as surgical centers, even though more dangerous outpatient procedures, from childbirth to liposuction, aren't subjected to such regulations.

In 2015, Brownback also signed a bill outlawing the safest method of second-trimester abortion. He's been particularly focused on defunding Planned Parenthood, which celebrated its 100th anniversary October 16. "Every year since I became governor, we have enacted pro-life legislation," Brownback said proudly in his State of the State address in January.
It's one of the reasons Yeomans, now the age of some of his patients' grandfathers, keeps putting on that vest and making the long slog down to Wichita. "I'm needed," he says. "But at some point, you know, they are going to have to get somebody young to come in."
Yeomans has offered to train younger physicians interested in providing abortions. But that has come with challenges as well. About five years ago, he says he was training both a family physician and an anesthesiologist. "The anesthesiologist was told by colleagues [at the practice where he worked] that he couldn't perform abortions if he was going to stay on as part of that group," says Yeomans. "The other doctor, she got harassed and picketed and threatened. One of the people who was threatening her was actually arrested for making terroristic threats." Both stopped their training.
In 2008, the National Abortion Federation warned about the "graying" of U.S. abortion providers when a study found that 63 percent of OB/GYNs who perform second-trimester abortions are at least 50 years old. It's not for a lack of demand, either: A 2011 study published in the journal Obstetrics and Gynecology found that 97 percent of OB/GYNs had encountered a patient seeking an abortion, but only 14 percent actually perform the procedure.
Still, there are some signs of hope. A few years ago, former Kansas attorney general Phill Kline — who, as part of his anti-abortion crusade, accused abortion clinics of covering for pedophiles, among other things — had his law license indefinitely suspended after the Kansas Supreme Court found "clear and convincing evidence" of misconduct. And this summer, Republican voters in Kansas rejected ultraconservatives in the primary, instead putting their support behind more moderate candidates. But at least in Yeomans's eyes, there's a more personal reason to be optimistic: His 16-year-old granddaughter, who started her school's first feminist club, wants to be a doctor. She already visits her grandpa at the clinic, and he can see the wheels turning. "We'll have to wait a few more years and see," he says, pride seeping from his voice. He takes a breath. The clock is ticking, and no one knows it more than him.