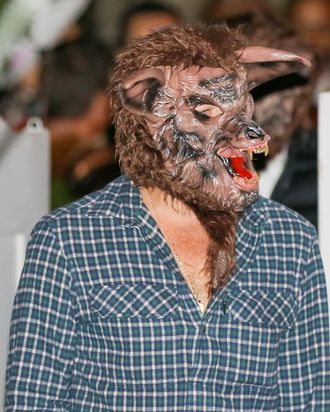 The Wolf Pack founder in his true state.
Photo: AKM-GSI
Newsboy-cap enthusiast Leonardo DiCaprio is perhaps best known as the Oscar-winning leader of the Pussy Posse. But did you know that he is also the founder of another group of club-hopping, model-loving men known as the Wolf Pack? And that the Wolf Pack is composed of literally the same guys as the Pussy Posse?
Appropriately, DiCaprio and his Wolf Pack followed their true calling and dressed up as wolves for this Halloween, Lainey Lui pointed out. DiCaprio and four of his wolf bros wore wolf masks, casual button-down shirts, and jeans at George Clooney's tequila brand Casamigos' party on Friday night. According to Entertainment Tonight, recently single Wolf Pack/Pussy Posse member Tobey Maguire was also in attendance, but he deviated from the rest of the group and wore a monkey mask. ET noted:
"DiCaprio seemed to be in great spirits, the eyewitness noted. He was bouncing back and forth from the dance floor to the bar and mingling with everyone in sight. At one point, the 41-year-old actor and Robin Thicke couldn't contain their laughter as they busted out their best dance moves."
At least they didn't attempt a "Pussy Posse" costume theme.