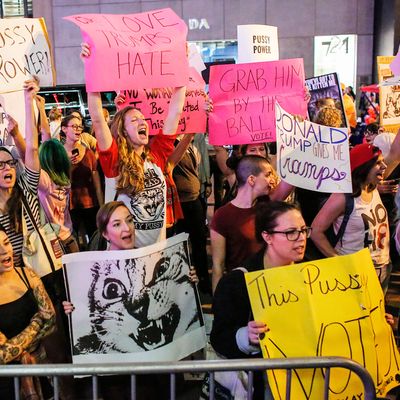 Protesters at Trump Tower.
Photo: KENA BETANCUR/AFP/Getty Images
A 27-year-old woman was groped while attending a protest outside Trump Tower last week, New York City police said on Monday.
The Staten Island resident attended the "Pussy Power" protest before the third presidential debate on Wednesday evening, the Daily Beast reports. At approximately 6:15 p.m., a man allegedly grabbed the woman's breast while she protested outside Trump's headquarters. The woman apparently did not know the man who assaulted her.
More than 100 people participated in the protest, which was merely one of several held outside Trump's Manhattan residence. The protests kicked off after a tape in which Trump bragged about grabbing women by their pussies was released.