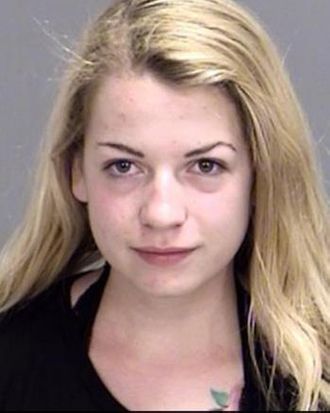 Miranda Rader.
Photo: Courtesy Bryan Police Department
Sexting, like both words from which the portmanteau stems, has a time and a place — and that time and place is rarely while driving your car down a busy road. Miranda Rader, a 19-year-old Texas A&M University student apparently did not get that memo, because on Wednesday, she slammed into a police car that was stopped in front of her while she was occupied with taking a mid-drive topless selfie.

Rader, who was driving near her college campus in Bryan, Texas, was trying to get her shirt back on when she was approached by the arresting officer, who recalled, "I asked her why she was not dressed while driving and she stated she was taking a Snapchat photo to send to her boyfriend while she was at a red light."

Rader reportedly also had an open bottle of wine in her car's cup holder, so chances are that the topless snap would've accidentally made it on her Story.

Rader was arrested for suspicion of driving while intoxicated and released on a $2,000 bond — she was not, however, penalized for trying to take a photo of her boobs while driving. Tiny victories.