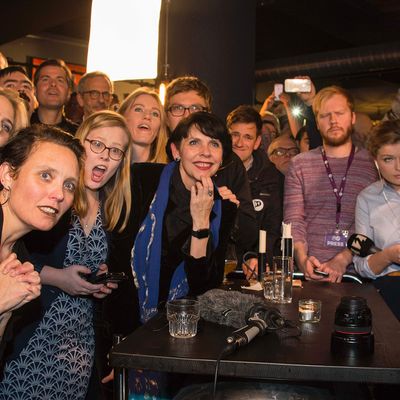 Politician and co-founder of Iceland's Pirate Party Birgitta Jonsdottir and Asta Gudrun Helgadottir react to the election results.
Photo: HALLDOR KOLBEINS/AFP/Getty Images
If you take a look at Iceland's newly elected parliament, you'll notice something striking: Almost half of all the officials are women. During the weekend's national elections, Icelandic voters elected 30 women to parliament — a record number.
The country is now at the top of the list of governments with a high percentage of representation by women. The country's Ministry of Foreign Affairs called Iceland the "most equal Parliament in the world" without a quota system, according to NPR. That's no measly achievement, of course. Female politicians only make up about 20 percent of Congress in the United States, while Nordic countries continue leading when it comes to electing women into government.

While voter turnout was a record low for Iceland (just under 80 percent), women have been making political statements in recent weeks. Thousands of women took to the streets on Women's Day in protest of the ongoing gender pay gap in Iceland. The government has also pledged to close the gender pay gap by 2022. Sounds like progress.