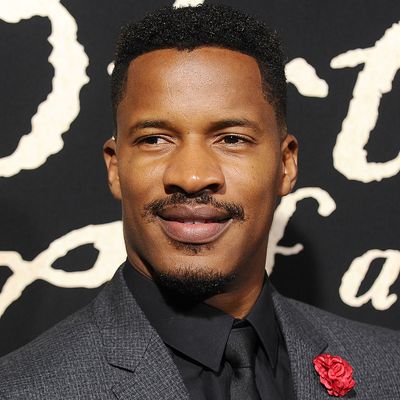 Nate Parker.
Photo: Jason LaVeris/FilmMagic
Ever since the news resurfaced that Nate Parker was accused and acquitted of rape 17 years ago, it's been difficult for audiences and critics to disassociate his real life from his latest project, Birth of a Nation. And on the night of the film's premiere on Thursday, it will likely be even harder for audiences to do just that. The organization Fuck Rape Culture announced they will hold a silent candlelight vigil outside the Arclight Theaters in Los Angeles where the movie will premiere. The vigil will be for the "unnamed victims of rape and sexual assault in the US," according to the event's Facebook page.
"FRC recognizes the need to hold space for those celebrating the advancement of people of color in Hollywood while continuing to fight for the victims of sexual assault and rape around the world," the organization's statement read. Artists, filmmakers, and other women in Hollywood partnered with the organization for the vigil, according to The Hollywood Reporter.
While Parker has given interviews addressing the subject, his comments have fallen short for many in the public. His refusal to apologize for what he says was consensual sex and his seeming lack of true remorse has especially soured him in the eyes of potential moviegoers and has so far eclipsed the film itself in the press. The vigil's organizer, Elyse Cizek, who is a writer, model, and rape survivor, told Variety she put together the event as a way to carve out a public space for other women like herself. "I personally am saddened not only for my own experiences but for those who were directly affected by the actions of both Nate Parker and those seeking to glorify him despite his negligence in addressing the issue of rape culture while simultaneously perpetuating it," she said.