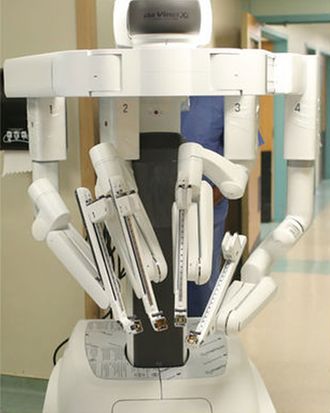 The da Vinci robot.
Photo: Courtesy of Elmhurst
While it's important to appreciate technological advancements that benefit women's health, it's also important to point out when said technological advances look scary as hell. Take this "robot gynecologist," which can carry out noninvasive gynecological procedures, but also vaguely resembles a many-tentacled torture device.
The "da Vinci robot" was approved for use by the Food and Drug Administration in 2000, and it helps doctors complete surgeries through tiny incisions "using robotic extensions that offer 3-D high-definition views inside the body." The robot can remove "benign and cancerous tumors from the uterus," and also work on pelvic issues, DNAinfo reports.
The Elmurst Hospital in Queens recently became the first in New York City to install one of these robots. The hospital's director of ob-gyn services, Dr. Barry Brown, said in a statement, "Robotic surgery has several important benefits, including faster recovery times and less blood loss. Women who in the past would have been hospitalized for a week are now able to go home in a day."

While it's great to hear that gynecological surgery is becoming safer and more efficient, we'll still probably spend the next week being chased by robot gynecologists in our nightmares.