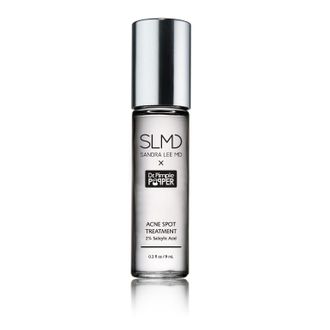 Dr. Pimple Popper Acne Spot Treatment
In a turn of events absolutely, completely, without-a-doubt unexpected, zit-busting evangelist Sandra Lee, or Dr. Pimple Popper, just launched her own acne-treatment formula. It's a clear, liquid solution that according to her site works to create "healthier looking skin and reduce risk of post-acne scarring." Given that it's formulated with noted acne fighter, 2 percent salicylic acid, this claim will likely hold true, although the $25 treatment's hefty supply of alcohol is likely irritating.
If your skin is already pristine, there are other ways to shop Dr. Pimple Popper's site. There's a "Dr. Pimple Popper" Halloween costume up for grabs and a "Pimple Popper" mug that's only moderately repulsive. Happy shopping!