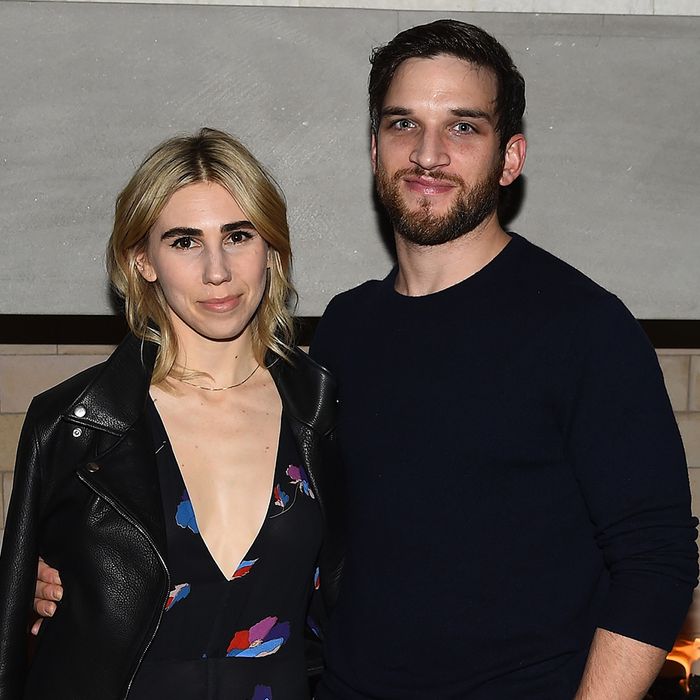 Photo: Nicholas Hunt/Getty Images for Sundance Film F
While the rest of us were merely welcoming the first days of October this past weekend, Zosia Mamet, of Girls fame, had a much bigger occasion to celebrate: her wedding to longtime boyfriend Evan Jonigkeit. The two quietly wedded over the weekend and have thus far shared little info of their nuptials. That is, except for an adorable, close-up photo on Instagram featuring two rubber duckies dressed as a bride and groom.
In the caption, Mamet wrote:"@evanj550 my best friend, my soulmate, my HUSBAND, I love you. Here's to forever and a day"
Mamet and Jonigkeit met in 2013 while working on the off-Broadway play "Really, Really," and the two hit it off so well that by 2014, they'd bought a $1 million home in Bushwick, according to the Daily Mail. Details about their wedding, though, have been sparse so far. Mamet's hairstylist initially shared a photo on Instagram of the bride wearing flowers intertwined throughout her hair in lieu of a traditional veil, according to E! News. The post appears to have since been taken down and, if so, it's unclear if that was at Mamet's request. If it was, however, it wouldn't be out of the norm. Mamet has kept intimate details of her relationship private, even from close friends, as she explained in a column for Glamour last year. Doing so, she wrote, has helped her foster a new level of intimacy with her (now) husband by keeping certain things between them.
"I feel the bond between my boyfriend and me strengthen every time I share with him," Mamet wrote. "We talk through issues in real time, without any noise from the outside world. It is honest and true." With that kind of honesty, no wonder the newlyweds announced they each married their "best friend." Congrats to the happy couple!