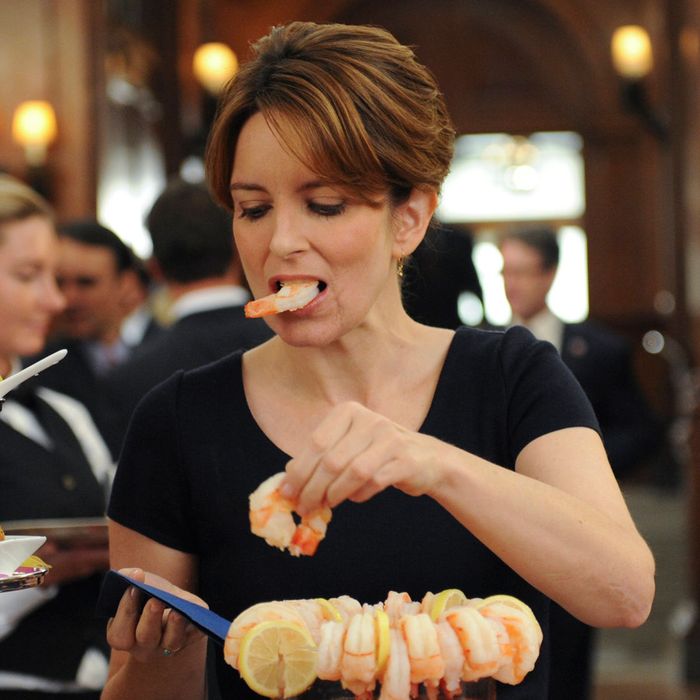 Tina Fey.
Photo: Ali Goldstein/NBC
Some of my happiest holiday memories are of being single, hovered over a jigsaw puzzle at my parents' house in San Diego while bingeing on documentaries, cable news, and Gouda cheese. Obviously, being married doesn't omit this as an option, but it's not quite the same when the Holiday Pressure Monster bears down on you in the form of gentle inquiries from relatives like, "Maybe if you took your headphones off, your husband could help with the edge pieces?"
Of course, I treasure all the new seasonal traditions I'm creating with my husband (last Christmas we slept until 6 p.m. and listened to Cypress Hill; henceforth, we've decided to make this "our holiday thing"), but I also know that the evidence proving why it's great to be single this time of year is plentiful.
To that end, I asked several girlfriends to offer their own very special reasons to love that elusive taste of nirvana that is being single from November through January. And boy did they ever, from declaring a Trump-free zone at the dinner table to getting rid of all the fucks about pubic hair to free-boobing it with pride while glued to Turner Classic Movies.
So, pass the turkey and rejoice in avoiding all the convos that might otherwise end in "Stuff it."
Reason No. 1: Politics.
"You don't have to bite your tongue in front of any Trump-supporting in-laws. The way things are going, I'd be biting my tongue right the hell off." —Helen Hong
Reason No. 2: Closure.
"I just became single right before the holidays. It's great because it puts a Band-Aid on everything. I can focus on everyone else around me and distract myself from the breakup for a bit. I just got a new cat, so going Christmas shopping for her is something I'm really excited about."—Iemi Hernandez-Kim
Reason No. 3: Zero Waxing.
"You don't need to worry about getting your 'down there' ugly Christmas sweater/personal Hanukkah bush waxed. And everyone knows to just get you AA batteries as a gift." —Annie Lederman
Reason No. 4: Reality.
"I appreciate not having to worry about what some schmo is buying for me, and how much it cost, and what it 'means' about our relationship and how he sees me. I appreciate not having to worry about getting dumped in the immediate New Year breakup swell, when everyone takes a long, painful look at their lives and realizes what plenty of single women already know: It's SO much better to be alone than with the wrong person." —Laura Barcella
Reason No. 5: Introversion.
"I get to exercise a bit of introversion that I usually have to suppress living in a big city. Being able to go home and spend multiple days lying around and watching TV feels like a relic of '90s childhood that I worry has been lost in the social-media world of looking like you're doing something cool all the time. Fuck that. I'm not doing anything cool. I'm free-boobing in an oversize Tweety Bird T-shirt I've had for nearly 20 years and sweatpants with a hole in the crotch while I switch back and forth between old movies on cable. Not having to impress anybody with my ability to eat at a table and not on a couch is the truest meaning of holiday spirit."—Akilah Hughes
Reason No. 6: Extroversion.
"Why not make low-risk online connections with no one complaining that you're checking social media at the dinner table? Let your thumbs text the truth in love in a group like International Tribe Design — you may end up invited to their 'secret' offshoot where folks tell the truth to hear the truth in return, all through 90 second #OneTake spontaneous videos. Bonus points for turning online friendships safely into real-world connections." —Jayme Nimick
Reason No. 7: Cinema.
"This season, with no obligations other than to myself, I'll be on 34th Street to meet Harry and Sally before I jet off to London to see my Love, Actually. Not actually. But, snuggled up on my couch with my dog is something for which I'm most grateful. Plus, by being single during the holidays you get tons of pity invites to places and things. And there is nothing pitiful about that!" —Amanda Barrie
Reason No. 8: Friendship.
"My best friend and I started a tradition many years ago for the holidays that we keep alive to this day. We pick a fabulous restaurant and treat ourselves to an amazing meal filled with wine and good memories. We get so excited about this every year that we start planning around October! As I look back, each year would bring a different meaning to my life around the holidays since that's when I start to reflect on the year that is about to end." —Paola Reyes
Reason No. 9: Sex.
"Visiting those old flings that are conveniently back in town visiting family without the obligation of feeling like you have to entertain to win them over. Holidays bring out the easy in people and there are no expectations."—Mia Vallis
Reason No. 10: Food.
"Freedom from calorie counting so I can devour a turkey leg down to the bone. Freedom to take my parents' car after Thanksgiving dinner. And freedom to drive to bone old friends in Queens, Brooklyn, the part of Harlem white people have not taken over, and, if the tryptophan hasn't kicked in, an ex-lover in Connecticut. Because the holidays are about giving and 'receiving' as much love as possible before my flight back to Los Angeles in the morning." —Jackie Fabulous
Reason No. 11: Money.
"I'm always grateful that I am single over the holidays because I am fucking poor. That's just the truth. It adds up to way too much time and money I do not have, and removes any actual sentiment involved in the occasion. Plus, I sincerely love going it alone at holiday parties. They're usually the only gatherings of the year worth attending, because people are mostly able to leave their differences at the door and unwind with all of the free booze. We'll see how that plays out this year, but I LOVE being single over the holidays." —Michelle Leigh
Reason No. 12: Independence.
"The best part of the night of course is always dessert. Eating Patti Pies, and comparing body counts of all the sexual encounters with frivolous men almost half your age you've had since you've been single is where it's at. It's great. Why would anyone want to be in a relationship? Cougar life for keeps." —Von Decarlo
Reason No. 13: Self-preservation.
"There really is no holiday gift to oneself like sleeping in the middle of your bed. Not to mention all the fun one-night stands at holiday parties you get to indulge in. Plus, there's no uncomfortable trips to his family's house where they try to timeline out when you'll bear his children. And to be practical, you can save money for that back-alley abortion you'll need once Trump ruins everything." —Maria Heinegg