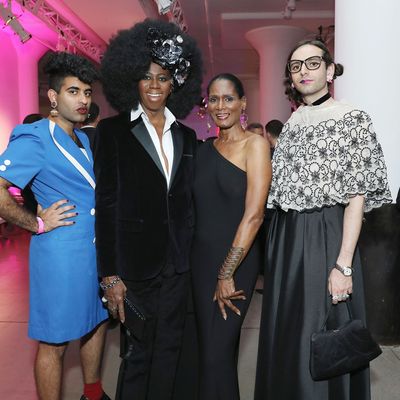 Miss J (second left), model Tracey Norman, and genderqueer advocate Jacob Tobia at the the 2016 Out100 Gala at Metropolitan West.
Photo: Monica Schipper/Getty Images for Here Media
For the past 22 years, Out magazine has celebrated 100 LGBTQ leaders at its annual Out100 Gala. This year's event took place just two days after the election and felt more necessary than ever.
To a jovial crowd of LGBTQ leaders and advocates, Aaron Hicklin, editor-in-chief of Out, opened the event by acknowledging what was on everyone's minds. "Like many of you, I woke up on Wednesday morning and turned to my husband and we fell into each other's arms sobbing," he said. "I know that was happening all over the country." Later, he described the mood of the room and explained the importance of visibility. "I've been walking around here tonight talking to people, and the energy I'm getting is game on," he said. "We have to take that challenge as a community. We have to be visible. The Out100 has always been about telling stories, stories of people who live their lives out and proudly."
The Cut caught up with 25 of the night's honorees and guests, including Tracey Norman, survivors of the Pulse nightclub shooting, and contestants from RuPaul's Drag Race, to ask how they felt about the election results and the future of our country. They spoke of devastation and optimism.
Chris Salgardo, president of Kiehl's
"Everything that we found out and all the shock, it existed. It's there. I'd rather know if somebody has a problem with me being gay or my neighbor being African-American. I'd rather know. Because until we have that dialogue, we're not going to make any improvements. We're not going to change anything. We're just going to sugarcoat it. I'd rather get to it, rip off the Band-Aid and tackle it. We can still be stronger together. It's not over."
Tracey Norman, model
"When I turned the TV on that morning around 3:30 a.m. and realized that Trump had won, I literally started screaming in my apartment. I had fallen asleep early, and when I got the news I was really devastated by it. It was overwhelming. I don't know what's going to happen. I'm going to be patient, and we'll see what happens in six months. I'll make a decision then."
Hannah Willard, policy and outreach coordinator for Equality Florida
"If I'm being totally honest, Wednesday morning felt a lot like Sunday, June 12. It felt like immediate horror and disbelief that the world could be so awful and dark. In the same way it's going to take a minute to continue to recover from Pulse, it's going to take a minute to recover from this. But what I know for sure is that LBGTQ people are no strangers to adversity. We've gotten back up before."
Brandon Liberati and Craig Ramsay, stars of Bravo's Newlyweds
BR: "We are the first federally legal married couple on reality TV that showed people into the first year of marriage equality. So for us, it's been very interesting to see that people weren't very educated on not Trump himself or the president-elect, but his staff and what that stood for. It's been a very emotional week because they're talking about taking away our marriage, our whole show. And America saw our marriage."
CR: "The main thing I think I am devastated over is we're still two white men that are married to each other, and this far exceeds our white privilege. This is about women who voted against women's rights. It's about people deliberately having an issue with eight years of a black man as president. And us, as two white privileged men still — yes, we have the LGBT rights to fight for, but also this is an eye-opener for us to fight for women's rights and minorities and immigrants."
Joanna Cassidy, actress
"I think our country is going to wake up now. I just hope and pray that Mr. Trump does not undo what has been done and what history President Obama did for our country. In terms of the gays and the lesbians, I just don't want that undone. We've really progressed and I'd hate to see it go backwards. I'm counting on millennials to pick up the slack here. You can't forget, and neither can anybody else. I don't call this 9/11 — this is 11/9. We must remember. We must. We must stay on top of this."
Miss J (J. Alexander), TV personality
"I was shocked. I was surprised. I was horrified by it. I'm a little bit concerned because the future of our country is now leaning toward more transgender, so probably in five or ten years it will be normal for people to walk down the street without being beaten or dragged or put in jail. I mean women have always been strong. My mother was strong until the day she died, raising ten kids with my father. But at the same time, I'm going to look at our future as a positive thing. Because if I keep thinking the negative, girl, I'd be a mess."
Milk, RuPaul's Drag Race contestant
"I was extremely devastated by all of this. Hillary won that popular vote. I think the Electoral College is extremely archaic and outdated and I will not be sending my child to that college. I just think it doesn't make sense. Still."
Pearl, RuPaul's Drag Race contestant
"I'm still waiting to wake up. It's almost like a weird, listless feeling. It's a weird haze, like when you wake up after doing two benzos and a Klonopin and you're, like, waiting for the buzz to wear off. I don't know. I guess this is the reality, and all we can do is hope that our daily lives don't change in a negative way."
Marti G. Cummings, drag performer
"After the shock wore off, I'm not really surprised. I think America has always had this underlying bigotry. It's kinda been pushed down, and Trump is allowing these people to have a voice. Now, it's our job to keep pushing the agenda of equality, which is basic human rights for all people. It's our job now to be louder and prouder than we've ever been. I'm happy to use my drag to do that."
Elliot Sailors, model
"I'm proud of everybody who is willing to be so visible. I think it's really important that we don't let the fear get in the way, and also remember that here in New York we're in a bit of a bubble where we are not surrounded by the people who are celebrating. We have to keep those in mind that are feeling more alone than we are and need our support more than ever."
Jacob Tobia, genderqueer advocate
"I think what it means for us as a movement is that we have to double down on being intersectional and standing up for the communities that are going to be most marginalized under his presidency. We can't afford to prioritize issues that only impact wealthy, white, gay folks. We have to prioritize folks who are going to be facing deportation, who are going to be facing imminent cuts to benefits and health care, who are going to subject to those xenophobic policies that are going to be put in place. We have to build a stronger coalition movement that sees other movements, not sort of be siloed like I think we've been for the past decade or so."
Alex Newell, actor
"I'm still going to hold out hope until the Electoral College votes on the 19th of December. Here's hoping they come to their senses just like the rest of us have. He might shape up to be a great president. One never knows. It took Obama four years to get things in motion, so what can he do in four years? Nothing too damaging."
Drew Elliot, VH1's America's Next Top Model judge
"I think this is the most important, exciting time in America. It basically is the feeling I sense the people have around the Industrial Revolution and that type of thing. With media changing, the way we digest information, and just the way we are connected, utilizing social media, we can publish and advocate for ourselves."
R. Kurt Osenlund, managing editor of Out magazine
"I know a lot of vulnerable people out there who are a lot less privileged than I am. People of color, trans people, people who might wake up and walk down the street and not know if the person next to them is their enemy. It's a really, really sad thing to feel. Ultimately, I kind of have this mantra that we're going to be okay no matter what. With Out, I have the great privilege of playing a small part in showing people that we are very visible. Visibility is extremely important. Everything else is a secondary conversation. So no matter who's in the White House, we're still here. We're still visible. We're still diverse and still ourselves … It galvanizes us even further. What role does the media play in something like this? What did we play? What could we do differently? What could we do better? I grieved a lot, I cried a lot, and now I think I'm ready to act and to look forward."
Angel Colon, survivor of the Pulse shooting
"I was devastated. I'm with her. We can't break down now. We gotta keep going strong. Move forward. Keep showing the world love and positivity and hope. We just got to stick together. Doing that, we'll do our best."
Adrian Lopez, survivor of the Pulse shooting
"This election has been the hardest for America and for all Americans in this country. For everybody following Hillary Clinton, it was very surprising that he was going to win, knowing that he was very straightforward and very racist. He doesn't actually admit it, but his actions speak louder than words. It took a lot of people by surprise. That's a lot of angry people."
Michael Deeying, board member for MBA Orlando, Central Florida's LGBT Business Chamber of Commerce
"Honestly, emotionally I was devastated. I felt like the entire day, Wednesday, I was numb. I almost had a whole day of anxiety where I felt I couldn't breathe. We'll have to work through this as a country and get together. Work together. It's crazy what's happened. I hope that it'll work out. I hope that it was just scare tactics and rhetoric to get his base motivated. I hope, especially for LGBT rights, that we don't go backward. That would be a tragedy to happen to us, to anybody. We shouldn't let anybody feel less than they are. We're all equal. Hopefully everything works out."
Joe Saunders, Southern regional field director for Human Rights Campaign
"[In North Carolina] I had been helping run the Human Rights Campaign and Equality North Carolina's effort to win the state for Hillary Clinton, but also to unseat Governor Pat McCrory, who's one of the most anti-gay governors in the country. We were successful in defeating Pat McCrory. We were successful in electing a pro-equality state attorney general in North Carolina. We unseated Republicans who voted for the anti-gay HB2. We won up and down the ballot. It's a mixed election. There were some successes in this election cycle and there are stories that can be told about what progress really looks like for us."
Terry DeCarlo, Orlando LGBT Center director
"Am I upset? Yeah. Am I mad? Yeah. But something about the LGBT community, they do their best work when a curve ball is thrown at them, and this is a big curve ball. I have a feeling that they are going to step up. You're going to see a lot of LGBT people going, 'No no no, you ain't going to make this happen.'"
Matthew Breen, editor-in-chief of The Advocate
"It was a gut punch. We're in the loss of the potential not only for the first woman president that we could have had, but also the most progressive LGBT policy of any presidential candidate ever. A lot of us are really anxious that the progressive policies of the Obama administration will be rolled back, like right away. A lot of executive actions … the Supreme Court is of course a frightening prospect. This year's just really underscored the idea that community is so important. And we find it where we can find it. We have to protect it when we find it."
Eve Lindley, actress
"I love this country, but half of it seems to not want me to exist. I don't think the answer is to pick up and leave. There's no clear answer right now. I hope that maybe this sort of thing will cause an even more dire push for other stories to be told for African-American, Mexican, immigrant, LGBT, all the people who are not white cis male stories. Even just women in general. What a terrible week for women in America. I hope this will cause a big push to really get those stories out there, because we have to teach. In this adversity, we really have to educate. I think we're tough. We can do it. We're right for the job."
Gina Gibney, choreographer
"I am a leader in a very young field. I tried just every way I could to keep it together for the dancers and choreographers and staff. They're all devastated, and I was devastated. I can only believe our country and the people that are good and the forces of good. And New York City's an amazing city. I think we'll pull together and we'll protest and we'll create art and we'll keep going. But it's going to take me a while too; it's going to take us all a while. I hope that there are some massive protests. He's not my president."
Bob the Drag Queen, RuPaul's Drag Race contestant
"I'm just excited that people are finally so angry they're doing something. America's resilient. Queers are resilient. People of color are resilient. In history, when every card has been stacked against us, they've never been able to kick us down. Ever, not once. There's a saying: Everything works out in the end. If it's not working out, it's not the end. I believe in that."
Ellie Schafer, director of the White House Visitors Office
"For us it wasn't the results that we wanted. I think that's obvious. I've been involved in politics for 20-some years. You win some, and you lose some. And so you really have to wake up the next morning, dig down deep, figure out what you stand for, and start over. That's one of the most important things. Don't let it get you down. The sun will rise, as the president says. The earth will still continue to spin."
*This post has been updated to reflect that Michael Deeying is a board member for MBA Orlando, Central Florida's LGBT Business Chamber of Commerce, not a survivor of the Pulse shooting.