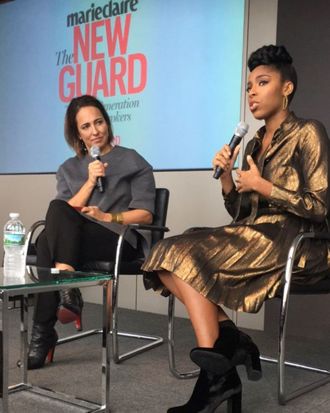 Against the odds, Marie Claire did not call off a lunch they had planned to hold today to celebrate the New Guard, a group of women introduced in the magazine's Power Issue as being leaders who are poised to change the world. News correspondents, fashion designers, one very tall actress, Broadway's best, and more women actually made it out of their post-election stupor to meet for two hours to turn yesterday's dismay into productive conversation.
In her opening remarks, Anne Fulenwider, Marie Claire's editor-in-chief said that one recommendation from another woman that had stuck with her was to turn "collective grief into collective action." She added that "this is the group, this is the time," while requesting that every woman in the room be inspired today, on this day in particular, to galvanize and organize. Cynthia Erivo, Phoebe Robinson, and Jessica Williams, in conversation with Fulenwider, explained what they were feeling and what next steps need to be taken.
Cynthia Erivo, Tony Award–Winning Actress in The Color Purple
"I think now more than ever, women need to come together and to think about what to do next, how to remedy a situation that we really don't have much control over, and how to make sure that women who are much younger than us and who want to succeed in their careers have a way to do so. I think we now serve as a real inspiration and a real looking glass for younger women. I want to make it very clear to young women that it is possible for you to succeed in what you want to succeed in with hard work. There has to be something to look at and model off of in order to see that.
I felt a moment of sadness today but now I feel more determined than ever to make sure that change is made. If change had been made before last night, we wouldn't be sitting here with this result. Now is the time to push forward to try to make something actually happen. I'm going to try to call together some of the women that I know, see what we can do, sit and talk and have a new come-to-Jesus moment. We need to figure out what ideas we can come up with. Being in The Color Purple is a huge thing for me. I feel like it is a lovely source of energy and hope, so I'll be there this week. I will be making music with some friends of mine. That's a really wonderful way to communicate and to push things forward. And just generally, any discussions I can be involved in, I'm happy to be involved in. I want to be a part of all of it. I have to keep asking myself: What can I do?"
Phoebe Robinson, Co-Host of 2 Dope Queens and Author of Don't Touch My Hair
"It's a dumpster fire. I work with Jess — she's my work wife — so it wasn't like I was going to stay at home today. This will be a nice celebration, but I do not know what we can do now. Really, I have no idea. I think that this election is so unfortunate and it's going to cause a lot of regret. It's going to be very similar to Brexit. So many people were acting out fear and out of anger about having a black president, that they hypercorrected to a place of ignorance and hatred.
I'm going to keep doing the comedy and the art that I do. I'm going to keep uplifting marginalized voices, and I think that's my place to do that. I would like to take other action, as well, but I'm in the early stages of figuring out what steps I need to take in order to do those things."
Jessica Williams, Co-Host of 2 Dope Queens and Former Daily Show Correspondent
"As a millennial, I had this idea that, well, the civil rights movement already happened, and that as we got older, we wouldn't have to really worry about racism. This election was a real wake-up call. I think there are so many minorities in the United States who have already been very woke and I think this election has also helped a lot of liberal, white people and the media realize that it's time wake the fuck up.
Donald Trump pedals this idea of exclusion. I think that if you're willing to vote for that, you must be so angry and terrified with the idea of a person of color having been in the White House and a woman possibly taking the White House. That dude is a racist. That dude talks about grabbing women by the pussy. It is baffling to me that somebody would even consider having that man as the leader of the United States, having that man as the example for our country.
With the United States, you're supposed to choose sides. The media says you're supposed to be on the left or on the right and you're supposed to believe this and that, and it's such a machine. Strong comedy comes from the oppressed. There are so many people who have been told they don't belong, and who have basically been told to go fuck themselves. We have to figure out a way to channel all that negativity and use it for good. It's such a disheartening day to be a woman and to be a minority, but this is the time for us to start pulling together and start making something."