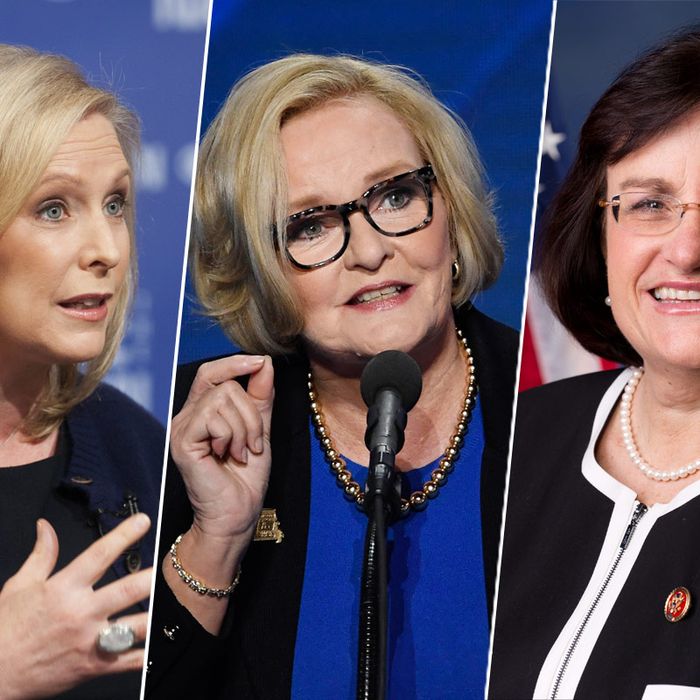 Kirsten Gillibrand, Claire McCaskill, and Ann McLane Kuster.
Photo: Getty Images; Wikimedia Commons
If absolutely nothing else, Donald Trump's presidential campaign has brought the issue of sexual assault into the national spotlight. Trump's own words — and his subsequent denial that they were anything other than talk — drove more than a half-dozen women to publicly accuse him of sexually assaulting them.
And although the incidents occurred before Trump decided to run for president, his behavior is on par with that of many male politicians. In fact, the New York Times reports, sexism is so rampant in politics due to a unique combination of factors. "At its core, sexual harassment is about power, and politics is the ultimate power profession," writes the Times' Sheryl Gay Stolberg. "It draws in young people who are eager to advance and reluctant to make waves. And political organizations rise and fall around the fortunes of one central figure, a hierarchy that discourages reporting of harassment, because if the boss gets in trouble, everyone's job is at risk."
Thanks to the male-dominated environment, almost every woman who's worked in or near politics has a story of sexual harassment. These six female senators have gone public with theirs.
Claire McCaskill
In her 2015 memoir, Plenty Ladylike, Missouri senator Claire McCaskill told the story of asking the Missouri House speaker for his advice on getting legislation passed. She recounted it to the Times on Wednesday:
When she became a state legislator in 1983, the lessons became more explicit when she asked the House speaker on the dais his advice for getting legislation passed.

"Claire," she recalls his saying in a tone-deaf attempt at humor, "did you bring your kneepads?"
Kirsten Gillibrand
New York senator Kirsten Gillibrand chronicled her sexual harassment in book form, too. In her 2014 book, Off the Sidelines, Gillibrand wrote that after she lost almost 50 pounds, one of her male co-workers (who she said was one of her favorite people in the Senate) came up behind her and squeezed her waist. "Don't lose too much weight now," he told her. "I like my girls chubby."
After the incident was publicized, Gillibrand was criticized both by those who accused her of making the incident up and those saying she should've gone a step further and named the senator in question.
Joni Ernst
In August of 2014, in the midst of her Senate run, Republican Iowa senator Joni Ernst told Time magazine that she was sexually harassed while she served in the military. "I had comments, passes, things like that," she said without elaborating. Ernst used her personal experience to explain why she would vote for cases of sexual assault to be tried outside the chain of command — a position that broke with the Republican Party's stance.
Patty Murray
In the 1997 book Women on the Hill: Challenging the Culture of Congress, former Newsweek reporter Clara Bingham described an incident in which former senator Strom Thurmond tried to grope Washington senator Patty Murray in an elevator. According to the book, when Murray entered an elevator with Thurmond and an operator in 1994, Thurmond put his arm around Murray's shoulder, "tried to fondle her breast and said, 'Are you married little lady?'"
California senator Barbara Boxer told Cosmopolitan that Murray approached her about the incident. "I was distraught, and I said, 'I'm going to have a press conference and tell them, this guy's got to stop,'" Boxer said. "And she said, 'Don't do it, I want to deal with this in a quiet way.' And she did. She told [Thurmond's] staff he can't just wander around by himself — he needs to have staff people with him because he can't be going around attacking women in the elevator."
Barbara Boxer
Boxer is no stranger to sexism, either. She told Cosmo that when she was a member of the U.S. House of Representatives, a fellow legislator responded to a speech she made by saying, "Well, I want to associate with the congresswoman from California."
"The appropriate thing to say is, 'I want to associate with the remarks made by,'" Boxer says. "It was so embarrassing and everybody was laughing, and the chairman said, 'Well I want to associate with her too.'"

Humiliated and angry, Boxer approached the chairman and asked him to correct the record. "He said, 'For what reason? We were just complimenting you,'" Boxer recalls.
Susan Collins
When Susan Collins was elected to the Senate in 1997, other female senators warned her about Strom Thurmond. Speaking to Politico, she recalled heading to the senators-only elevator, seeing Thurmond heading in the same direction, and promptly turning around. "The reason I remember the incident so well is because it was observed by one of my Republican male colleagues," Collins said. He "started laughing because he knew exactly why I was turning around and not getting on the elevator."