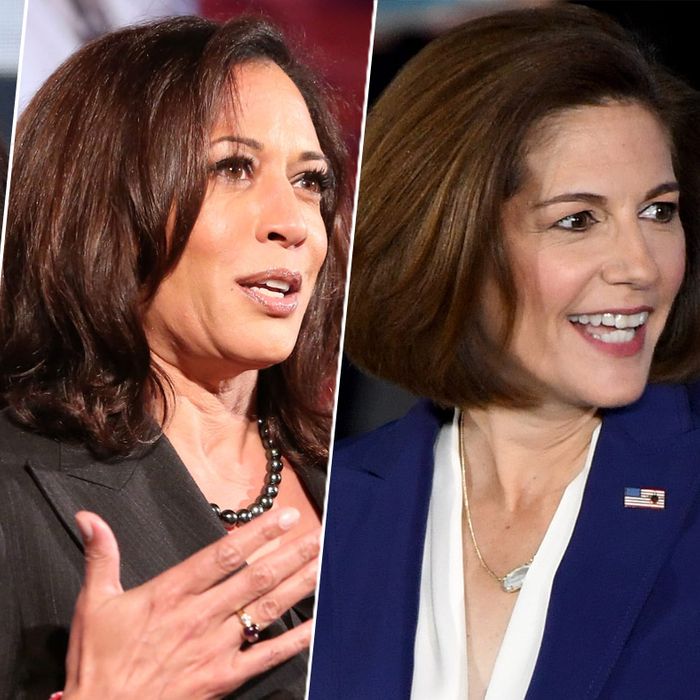 Tammy Duckworth, Kamala Harris, and Catherine Cortez Masto.
Photo: Getty Images
Despite Hillary Clinton's unexpected loss to Donald Trump, Democratic women made history Tuesday night. Not only will the newly elected Senate have more women than ever before, but three of those new female senators are women of color — that brings the number of female minority senators to four. (Senator Mazie Hirono of Hawaii, who is of Asian-Pacific descent, is the only woman of color currently serving.)
Women also made history in the House of Representatives, with voters electing the first Indian-American woman, the first Somali-American Muslim woman, and the first Vietnamese-American woman to serve in the chamber. And although both houses are still overwhelmingly male, hey, it's a start. Below is a complete list of all the women who made history this election cycle, all of whom are Democrats.
Senator Kamala Harris, California
Kamala Harris, California's attorney general, won her race against fellow Democratic congresswoman Loretta Sanchez, becoming the first Indian-American and the second black woman ever elected to the Senate. She was the early favorite, earning endorsements from President Obama and former California senator Barbara Boxer, and she held on to the lead in the general election, earning about 65 percent of the vote.
In her victory speech, Harris promised to stand up for immigrants, even in the face of a Trump presidency. "I intend to fight for a state that has the largest number of immigrants documented and undocumented of any state in this country and do everything we can to bring them justice and dignity and fairness under the law," she said, according to local station KPCC.
Senator Catherine Cortez Masto, Nevada
Meanwhile, former Nevada attorney general Catherine Cortez Masto became the first Latina to be elected to the Senate, beating out Republican representative Joe Heck in a tight race. Supporters called her victory "the tiniest speck of light," and in her victory speech Cortez Masto promised to champion equal pay, family leave, and immigration reform. "I will promise you this, I will be one hell of a check and balance on him," she said in reference to Trump.
Senator Tammy Duckworth, Illinois
Tammy Duckworth clinched her victory early in the evening. She'd been favored to win over Republican incumbent Mark Kirk, but Kirk widened the gap between them even further when he insulted Duckworth's heritage and military history during a debate last month (Duckworth is an Iraq veteran, and her mother is Thai).
According to ThinkProgress, Duckworth is the first female senator to have served in a combat zone, the second Asian-American woman ever elected to the Senate, and the second female senator from Illinois. "I will go to work in the Senate looking to honor the sacrifice and quiet dignity of those Illinoisans facing challenges of their own," she said during her victory speech. "After all, this nation didn't give up on me when I was my most vulnerable and needing the most help."
Representative Stephanie Murphy, Florida
Stephanie Murphy, the first Vietnamese-American woman to be elected to Congress, defeated Republican John Mica in one of the closest and most expensive congressional races in the nation, according to the Washington Post. Murphy said she decided to run after the Orlando shooting, when polls showed Trump had made Mica vulnerable, despite his 23 years in the seat.
Murphy's campaign spent heavily on ads linking Mica to Trump, particularly in the areas of women's health and gun control. Although she served as a national-security specialist in the Office of the Secretary of Defense in the wake of 9/11, Murphy doesn't have any prior political experience.
Representative Ilhan Omar, Minnesota
In Minneapolis, Minnesota, Ilhan Omar — who's a former refugee – became the first Somali-American Muslim woman to be elected to the state legislature* and the country's first Somali-American legislator, period. The 37-year-old came to the United States when she was a preteen, but said she was struck by the inequality and injustice she found here. She won her race with little contest, and in her victory speech said she's "excited for our progressive values and to be able to be on the ground at the Capitol representing the diverse people of my district and being a champion with them and for them."
Representative Pramila Jayapal, Washington
Pramila Jayapal became the first Indian-American woman elected to Congress when she beat out fellow Democrat Brady Walkinshaw in Washington's "super-liberal" 7th District. In her victory speech, which she gave before results from the presidential election were in, Jayapal called her victory "a light in the darkness," according to the Seattle Times.
"If our worst fears are realized, we will be on the defense as of tomorrow," she told supporters. "We will have to fight for social justice as never before."
*This post has been updated to reflect the fact that Ilhan Omar will serve on the Minnesota state legislature.