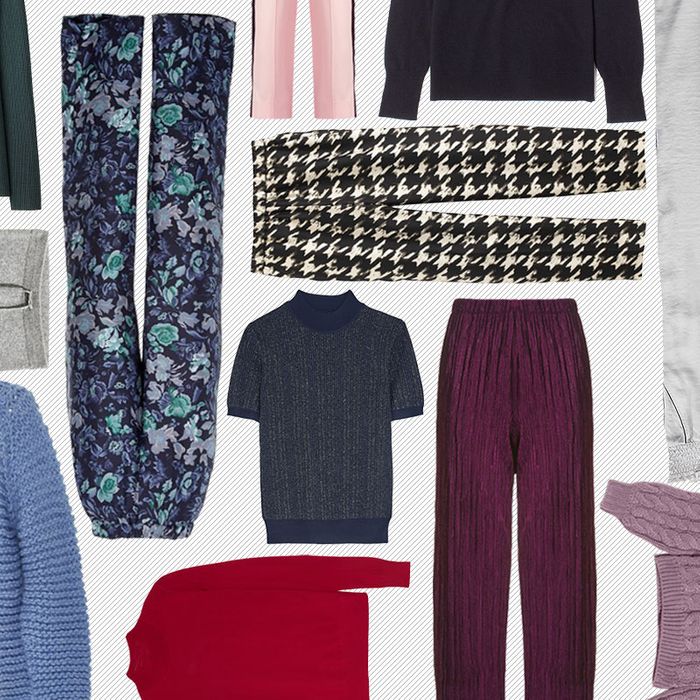 Chances are this Thanksgiving will be an awkward one. At best, you'll be with loved ones who share your frustrations at the week that was, drowning your sorrows over delicious food. At worst, you'll be gritting your teeth and trying to subdue the urge to viciously stab the turkey on your plate.
Whether your dinner company is pleasant or otherwise, at the very least you can be comfortable. Stretchy waistbands are your friend this time of the year, especially when you eat that second helping of pie in an attempt to distract yourself. Whether it's a silky pajama-style pair of pants or soft cashmere sweats, it's one less thing to annoy you. Click ahead to see the best sweater and sweatpants (in the loosest terms) combo that'll get you though the day.
Going monochromatic in shades of purple is one way to make this combination look deliberate and elegant. The chunky cropped knit sweater feels more put together since it has structure. Wear with a high-waisted pants and heels.
Sometimes you can wear actual pajama pants if you choose the right ones. Case in point: This pair from Aerie in a clean, silvery-white contrasts nicely with a fitted cashmere sweater. Just remember nude underwear.
If you happen to be somewhere warm for the holidays, try a thin, metallic sweater instead. It feels festive and helps keep you physically cool, even if you're mentally not.
Is there anything more luxurious than cashmere sweatpants? No. And these happen to be under $100.
Yes, these millenial pink track pants could be written off as trendy but you don't have to wear them that way. A simple cashmere turtleneck does wonders to keep the outfit sleek.
Rachel Comey always adds artistic, unusual touches to her pieces like these metal rings. Worn with a classic scarf and print pants, it feels artsy without scaring Grandma.
Velvet is especially festive this time of year. If you want to splurge on a nice pair with an elastic waist, try this one by Stella McCartney. Worn with a blush pink turtleneck, it's elegant enough for the fanciest of meals.
Sometimes more is more, like these pretty Burberry floral pajama pants worn with an extremely oversize periwinkle knit by I Love Mr. Mittens (which is the best brand name!).
If you buy something through our links, New York may earn an affiliate commission.