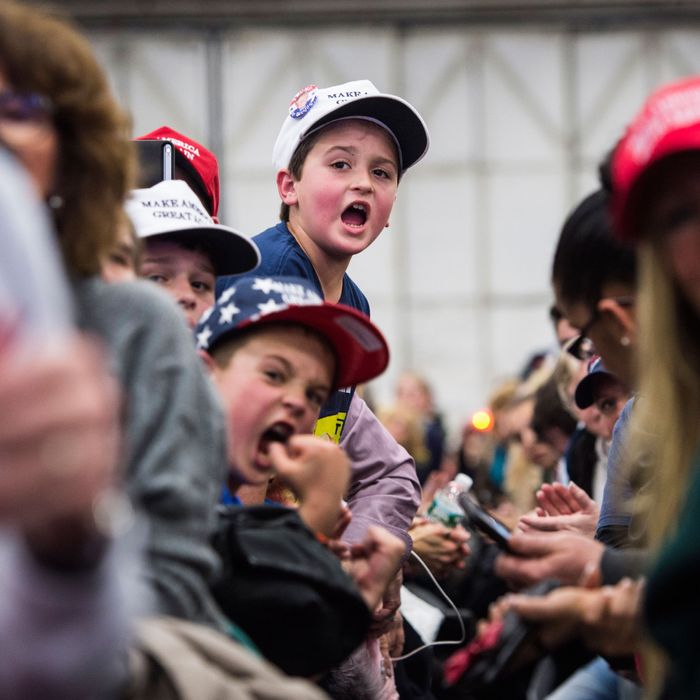 Children cheer at a Trump campaign event.
Photo: The Washington Post/Getty Images
The day after Donald Trump was elected, incidents of racist and misogynistic harassment were reported across the country. Since then the trend has continued, and at least one expert has said the trend is more widespread now than in the weeks following 9/11. And a new survey conducted by the Southern Poverty Law Center shows the problem is just as pervasive in schools.
More than 10,000 teachers, counselors, and administrators from K–12 schools across the country were surveyed, and 90 percent say their school's climate has been negatively impacted by Trump's election. Eighty percent describe "heightened anxiety and concern" from vulnerable students about their futures, and 40 percent say they've heard derogatory language directed at students of color, Muslims, immigrants, and people based on gender or sexual orientation.
According to the report, "Over 2,500 educators described specific incidents of bigotry and harassment that can be directly traced to election rhetoric. These incidents include graffiti (including swastikas), assaults on students and teachers, property damage, fights and threats of violence." Those surveyed emphasized that these incidents increased significantly after the election.
"I've had a lot of students repeat the phrase 'Trump that bitch' in my class, and make jokes about Hispanic students 'going back to Mexico,'" said a high-school teacher in Georgia. A high-school teacher in California said, "Someone anonymously put a swastika with the Trump tag line 'Make America Great Again' on the desk of a Spanish teacher." Others — including a middle-school teacher in Indiana — reported multiple incidents:
Since the election, every single secondary school in our district has had issues with racist, xenophobic or misogynistic comments cropping up. In the week since the election, I have personally had to deal with the following issues: 1) Boys inappropriately grabbing and touching girls, even after they said no (this never happened until after the election); 2) White students telling their friends who are Hispanic or of color that their parents are going to be deported and that they would be thrown out of school; 3) White students going up to students of color who are total strangers and hurling racial remarks at them, such as, 'Trump is going [to] throw you back over the wall, you know?' or 'We can't wait until you and the other brownies are gone'; 4) The use of the n-word by white students in my class and in the hallway. Never directed towards a student of color (that I've been told yet), but still being casually used in conversation.
Two-thirds of educators surveyed said administrators have been "responsive" to the incidents, but 40 percent don't think their schools have plans of action to deal with the new environment long-term. Half said they're hesitant to discuss the election in class, while some principals have forbidden teachers to talk about it altogether.
Although educators from schools where most students are white say the election hasn't affected their students, teachers at more diverse schools say an atmosphere of divisiveness persists. "There is a lack of trust in the school right now," a Washington high-school teacher said. "Many students are unclear as to how to talk to each other."