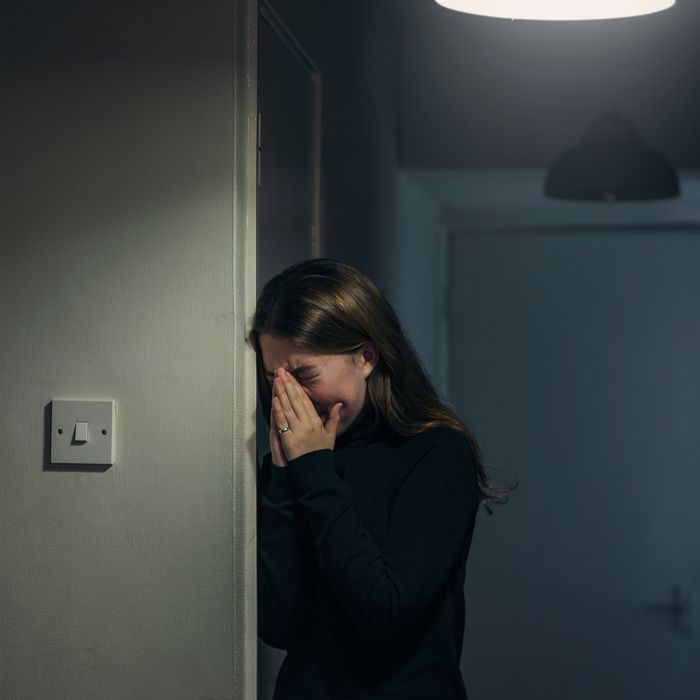 LGBTQ youths are struggling with the election's results.
Photo: Justin Paget/Getty Images
When Sam* agreed on Wednesday to work an extra shift at the national LGBTQ youth suicide-prevention hotline where he volunteers, he never expected the extraordinarily large volume of calls and online chats that rolled in from young people feeling fearful, rejected, and depressed after Donald Trump won the presidential election.
"It's hard to say exactly how a normal Wednesday night goes — as a caveat, some nights do fluctuate, it can be very slow or very busy — but in two years, that was by far the busiest I had ever seen it," Sam told me.
The suicide-prevention hotline (which I agreed not to identify) received more than twice its usual volume that day. The callers were young people from across the LGBT community, many of whom specifically reached out about Trump. Some spoke about fearing they won't legally be able to transition or one day marry the person they love, while others talked about feeling alone in their communities or homes. By and large, these youths feel rejected by a nation that voted for a man who doesn't accept them.
"If you're a gay person in some of these rural towns, when they say that their teachers aren't accepting and their classmates aren't accepting, or their parents and their church, they really have nothing; there are no resources for them," Sam said. "To be that person and to already be on the edge, and then to have a man like Trump be elected, who just has no regard for the LGBT community or the abused community, it's gut-wrenching."
Everyone who volunteers at the hotline goes through "extensive" training so that they are equipped to help callers who may be on the verge of taking their own lives. Sometimes the callers are in immediate danger; other times, they're distressed youth seeking reassurance and someone to talk to. That day, the hotline received so many calls that the queue of people waiting to talk had to be temporarily shut down several times, just because there weren't enough counselors to handle the incredible volume. Sam says he's never seen that happen before.
Sam cannot divulge specifics of his chats from that night, but was able to tell me that some youths spoke of feeling lonely, and that they didn't want to go to school the next day. "The reactions you see on television of his supporters and how charged up they are and how angry they are — maybe none of that is directed at the LBGT community — but to see a man who embodies that and supporters who take it to a different level … that's not a friendly situation if you're a 15-year-old who thinks they might be transgender and doesn't know what to do about it," he explained.
Many of these youths felt blindsided when the promise of progress was unexpectedly taken away from them. It was the first campaign, aside from 2012, where LGBTQ people really felt a part of the message, Sam told me. And so it's scary to have a president-elect who's the antithesis of the progress that's been made on their behalves — from the legalization of gay marriage to transgender rights. Sam noted, "They already felt so vulnerable."
After working that shift on Wednesday, it's been difficult for Sam to hear people say that "everything will be fine" or other clichés based on blind optimism. "Don't forget that this is real to people," Sam said. "The sun, yes, is going to rise the next day, as I found a lot of people saying. But for a lot of people, it doesn't feel that way. They feel alone in their communities and alone in their families."
Sam suggests that people wanting to help out could donate their money — or their time as volunteers — to suicide-prevention hotlines. But more than that, Sam says it's vital for family and friends of LGBTQ youths to let them know that they are loved and protected. "Even if they know that mom or dad or aunt or uncle feels that way, just to hear those words would go a long way to make people feel like they're not alone," Sam said.
*Name has been changed.