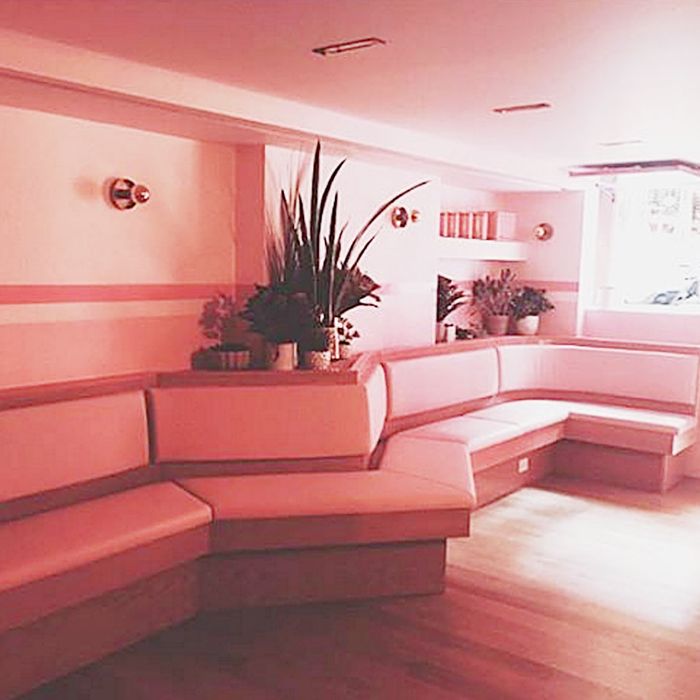 Pietro Nolita.
Photo: Courtesy of Instagram/pietronolita
If you haven't already seen it on Instagram, imagine the all-pink restaurant. The walls are pink, of course, and the ceiling is pink, and the chairs are pink, and the long booth running down the right side is slightly cushy, and pink. The lighting is a low, orange-red, which makes the air look pink. Imagine going to the all-pink restaurant now.
Pietro Nolita, it's called, recently opened on Elizabeth Street, and last week, Kelly and I reserved a time to review it, for fun. The time we got was Thursday, November 10, at 7 p.m. A woman's life is one long string of indignities that ends with waking up to President-elect Donald Trump and then remembering you have to review the all-pink restaurant this week. Anyway, we went.
Kelly: Yes, in a time before 63 percent of white, male voters and 52 percent of white, female voters elected a proudly racist and xenophobic sex criminal as commander-in-chief, an all-pink restaurant seemed like it could be delightful or at least somewhat entertaining.
What struck me immediately about the pink restaurant was that it was not pink enough and that it was so tiny that it was crazy. Also I thought there would be more of a miserable vibe. There wasn't a vibe like that, which was maybe because everyone was either trying to escape reality for one hour or, in other cases, they were just at work. "Why isn't the host crying?" —me at a restaurant. Haha. "Haha." Anyway. Allie's beautiful face was very dour during the entire miserable meal, which was correct.
Oh — but, yes. It wasn't pink enough, to me. Some of the tables were wood (ours) and other tables were black and white. Pietro Nolita gets points off for those tables, in my opinion. Those tables should have been pink.
Allie: The restaurant seemed aggressively pink as we walked in the door and then not really that pink once we sat down at our baby-small table, which had no room for elbows. I expected to feel like we were going back to the womb, but instead I felt the man next to me shove my purse into my body. Everywhere I have gone in the last few days, I have been surprised to see people carrying on conversations and not laying down on the ground quietly, and Pietro Nolita was no exception. Long-haired young people were wearing fashionable outfits and ordering bottles of Montepulciano and kissing each other, even. We watched one blonde person stand up and show her friends that she was wearing black fishnet tights underneath her jeans, and her friends were all like, "We have to start doing that." Should Kelly and I start doing that? We wondered about it and sighed.
Thanks to diligent research on our part, we knew going in that some of the menu items were also going to be pink. If nothing else, we wanted pink drinks. So I asked our beautiful waitress, "Can you tell us which drinks are pink?" Her response was stunning.
Kelly: After going through each of the cocktails one by one and explaining their individual hue of pink — some were bright pink, some were pale pink, some were orangey pink, some were very bright pink — she concluded, "They're all pink — just different shades." Perfect. And then she said, "Plus, because of the lighting, pretty much everything in here looks pink. So you're safe." Perfect.
It is with a heavy heart that I must point out this was a lie. The cocktail I ordered, the Violetta, was composed of lavender vodka, elderflower liquor, lemon, honey syrup, and a lemon twist. Under the pink lighting, it was not pink but distinctly "yellow." Under normal lighting it is my belief, though I have no definitive evidence, that the color would have been sort of a cloudy "also yellow."
I don't blame our beautiful waitress for lying to us for such a long time about the cocktails. We asked her what the pink cocktails were two days after Donald Trump was elected president of the United States. My cocktail was good, anyway, and tasted like lavender. It is both fortunate and unfortunate that the feeling of having elected Donald Trump president of the United States isn't something that can be helped by drinking. It is fortunate because if it did help everyone would be drunk and slightly less upset, and that is a non-ideal way to fight fascism. It is unfortunate because wouldn't it be nice. Still, we each got two cocktails.
Allie: I got the Rosa cocktail, which was a gorgeous pale pink. It tasted like lemonade.
Unfortunately, the drinks were the best part of the meal, even if they did nothing to fix the doomsday scenario that is now our reality. Our appetizer, stracciatella and squash with pumpkin seeds, felt similar in taste and texture to baby food (with pumpkin seeds). I also got pasta pomodoro, which was fine. Kelly got some kind of pasta with green things in it that looked worse — no offense, Kelly. Luckily, we had each other, and the pink room, and the couple at the bar that kept making out. I repeatedly pointed this out to Kelly — "they are MAKING OUT" — and I think she thinks I'm a prude now or maybe that the guy was my ex-boyfriend. Still: making out. At the itty-bitty pink restaurant. On Thursday, November 10, 2016. I don't know.
Kelly: I have to admit that it was strange how much of a problem Allie had with the couple that was making out. At one point she made me turn around to look at them again and then she said, "I mean, who LIKES each other that much?????" Tensions were high.
Yeah, all of the food was not good. I guess Pietro Nolita is supposed to be "healthy Italian," which is an incorrect pairing of words. Also my pasta, the Fusilli al Limone, was made with rotini instead of fusilli, which was an odd lie. Please tell me to my face if the pasta is going to be rotini. I promise you I can take it. The dish was … fine, but definitely worse than what Allie got.
I believe this was the most miserable dinner outing I've ever had. I've never had a breakup in a restaurant, but I have to imagine this was worse. Two people frowning at each other in an all-pink dining space while a couple makes out behind them and every once in a while one of them says to the other one, "Rudy Giuliani." Unpleasant.
Allie: I was my worst self at this dinner, as I have been since Trump won fucking Pennsylvania. Afterwards, I wondered if we would ever enjoy something like the all-pink restaurant again. Obviously: no. Investors should no longer put money into restaurants designed to appeal to wealthy, white, under-30 Instagram users in Soho.
Oh — the bathroom is also completely pink, in case you were wondering. This includes the toilet. When I went to use it at the end of the night, the toilet paper was sitting in a wet puddle on the floor.
Kelly: You have to appreciate the honesty of toilet paper.
Pietro Nolita
174 Elizabeth St, New York, NY 10012
Official Conaboy/Jones rating: 1 pink blob