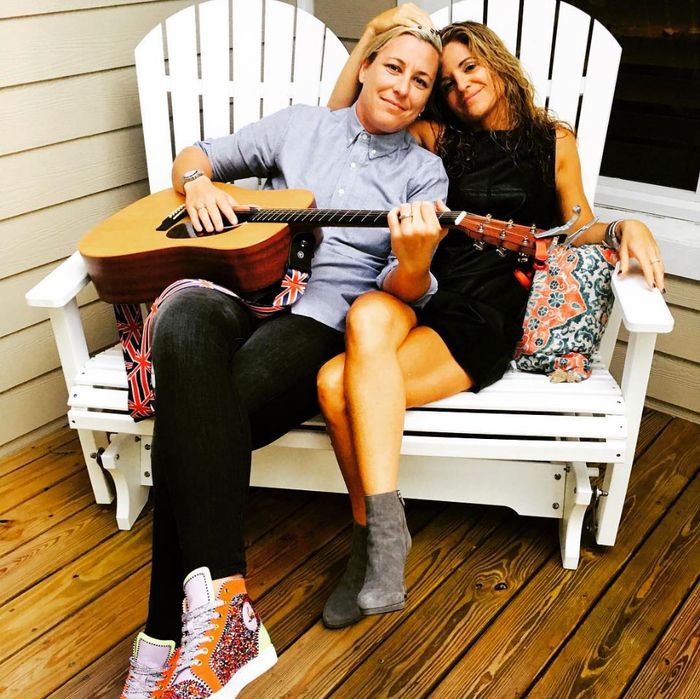 Abby Wambach and Glennon Doyle Melton.
Photo: Courtesy of Instagram/glennondoylemelton
It's been less than a week since Donald Trump became president-elect of the United States, and things are looking bleak. Perhaps Christian blogger Glennon Doyle Melton knows this, and that's why she decided to share a cute pic with her new girlfriend, Abby Wambach.
Yes, that Abby Wambach — "You might recognize her from soccer," Doyle wrote on her Facebook wall in what was essentially a coming-out post. She shared the same message over two Instagram photos, for consistency.
"Abby is deeply sensitive and kind," she wrote. "The kids call her an M&M because she looks tough on the outside but inside she's really mushy and sweet. Abby's brave. Not just with her words but with her entire being … And oh my God, she is so good to me. She loves me for all the things I've always wanted to be loved for. She's just my favorite. My person."
She reassured her followers that, yes, the kids are fine with it, as is her ex-husband, Craig, whom she divorced three months ago. (In September, Wambach announced she and her wife, Sarah Huffman, would divorce.) In fact, Craig is dating, too! "When Craig and I sat them down to tell them about Abby I started by saying: 'In our family, we live and tell the truth about who we are no matter what, and then love each other through it,'" she wrote.
And she ended her post, appropriately enough, with:
JOY!

I'm so happy.

Love Wins.
G
Here's another photo of them, just because.