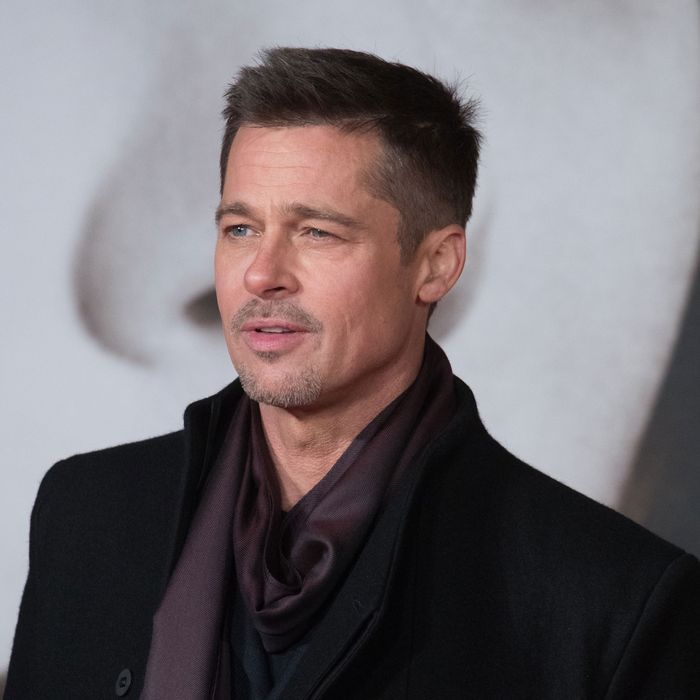 Brad Pitt.
Photo: Luca Teuchmann/Getty Images
Last night, while Brad Pitt was walking the red carpet at the Madrid premiere of his World War II drama Allied, multiple outlets reported that the FBI officially closed its inquiry into the child-abuse allegations against him. This follows the Los Angeles Department of Child and Family Services' decision to close its investigation into the matter two weeks ago. Pitt will not face charges of any kind. He is free, now, to pursue joint custody of his children with his estranged wife Angelina Jolie, and he is free to promote Allied all the way to the Oscars without having to answer any tough questions. The public will never know what, exactly, Pitt did on that private plane to propel Jolie to file for divorce, which means the whole thing will be easy to forget. Brad Pitt is going to be fine.
People started the celebration early this week. The tabloid, which has helped tell Pitt's side of the story since Jolie filed for divorce in September, published this post yesterday: "Brad Pitt in High Spirits as He Charms Fans at London Premiere of Allied." In it, we learn that Pitt "spent 45 minutes laughing, joking, and waving to the crowd" at the premiere, "before breaking into a broad smile during a red carpet interview about the movie." Pitt is smiling again; our long national nightmare is over.
The only thing left to settle is the custody dispute. When Jolie filed for divorce, she requested sole physical custody of her six children, and through sources, she alleged Pitt had problems with anger and substance abuse. While the DCFS investigated these allegations, Pitt and Jolie agreed to a temporary custody plan that gave Jolie full custody and Pitt supervised visits with the children. This agreement is still in place, but now, free from the looming threat of a child-abuse investigation, Pitt can really fight for joint custody. In People's report about the FBI closing its inquiry, a source claims that Pitt "has been very unhappy with the arrangement," and that "he loves his kids and wants to spend more time with them."
Jolie has been crystal clear throughout the divorce process that she wants sole custody, and she will not give up easily. But Pitt has been absolved, now, by the media and by the necessary governmental departments. She's lost her ace. The divorce negotiations will probably start fresh, with both parties standing on a more even playing field.
Much of Hollywood is eager to welcome Pitt back into the fold. Pitt's Allied co-star Marion Cotillard has supported him throughout the premiere circuit, of course, and Pitt's old friend, Julia Roberts (who maybe never liked Jolie that much in the first place), showed up smiling for Pitt's first public appearance since the divorce earlier this month. Audiences are ready to welcome Pitt back, too: Allied is predicted to pull in $20 million at the box office this weekend. After just a couple months of keeping a low profile, Pitt gets to be a movie star again.