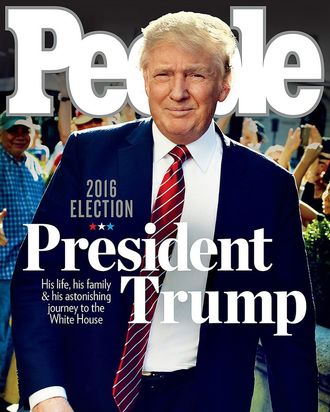 Immediately after Donald Trump was elected president, People magazine began to cover his family in a positive, cheery light: photo slideshows of Ivanka's "way too cute family" and Melania's best style moments on the campaign trail. This immediate normalization of a man who had run the most frighteningly sexist, racist campaign in recent history was made even more noticeable by the fact that writer Natasha Stoynoff had, a few weeks before, written an account alleging that Donald assaulted her while she was working on a story for the magazine back in 2005. In the wake of its new Trump coverage, many have called for a boycott of People magazine on social media.

In an internal email sent to Time Inc. staff on Friday morning, chief content officer Alan Murray addressed the criticism, writing:

People also made its mark in this election cycle, with its powerful and brave coverage of Natasha Stoynoff's story. The fact that some self-appointed social media critics then objected to the magazine's excellent post-election Trump issue only demonstrated that we had done our job: covering important and compelling people and events without fear or favor.
The Cut has reached out to People for comment about the magazine's post-election coverage of the Trump family and will update this post as it becomes available.*

Read Murray's full email below:

All,

Election 2016 was a challenging one for those of us in the media business. Emotions ran high. Facts were intermittent. Attacks on the media were persistent. And staying true to Time Inc.'s mission of serving all our diverse and passionate audiences was harder than ever.

But we came through with flying colors…and we expanded our audience in the process. The joint Time and Fortune news machine set new records for both sites, reaching nearly 5.5 million people Tuesday evening and 10 million on Wednesday. Our live video stream had a stunning 14 million views. And for anyone trying to make sense of it all, David von Drehle's masterful story for Time magazine was without peer.

People also made its mark in this election cycle, with its powerful and brave coverage of Natasha Stoynoff's story. The fact that some self-appointed social media critics then objected to the magazine's excellent post-election Trump issue only demonstrated that we had done our job: covering important and compelling people and events without fear or favor.

Other brands also participated in the conversation, from People en Espanol's Alicia Machado cover to Essence's delightful election day survival guide to Real Simple's election-night purple cocktail to Money's coverage of Trump's tax plan and Affordable Care Act repeal.

To top it off, our product team produced an excellent election day "get out the vote" banner that received nearly 28 million views and generated some 70,000 follow-up clicks.

Congratulations to all involved. It's a great demonstration of what we can do together, and it makes me proud to be a part of Time Inc.

Alan
Update (12:35 p.m.): In response to a request for comment, a Time Inc. spokesperson sent the Cut the following memo sent to People staff by editorial director Jess Cagle:
Dear Colleagues,

This week the PEOPLE cover story is about president-elect Donald Trump, and as you may have seen, we are getting some heat for it. We've been called out for trying to pander or "normalize" Trump, just weeks after we published a story, by former PEOPLE writer Natasha Stoynoff, about being physically attacked by Trump in 2005.

I assure you that the cover on the president-elect is in no way a celebration or endorsement of this deeply polarizing figure. And we continue to stand steadfastly by Natasha. Her attack is of course recounted in the cover story. Last Friday, we posted a video in which she again discusses the attack and responds to the nasty things Trump has said about her recently. We will never forget what happened to Natasha, and frankly we don't want our audience to forget, either.

Some readers are sickened to see Trump on the cover. Others are thrilled by it. In any case, it seemed wrong to put anyone other than the president-elect on the cover this week. He was elected president. We can't pretend it didn't happen. Some of you have been criticized on social media for my decision. This is unfortunate and unfair to you. Some of you may personally disagree with the decision. I'm here if anyone wants to talk.

Let me assure you that no matter who is in the White House, PEOPLE celebrates tolerance and inclusion. We strive to entertain, empower, and inspire our audience. We will continue to do all the things that make us proud. Our campaign against gun violence, for example, will continue with renewed fervor.

Thanks for listening, and thanks for the great work you're doing.

Jess