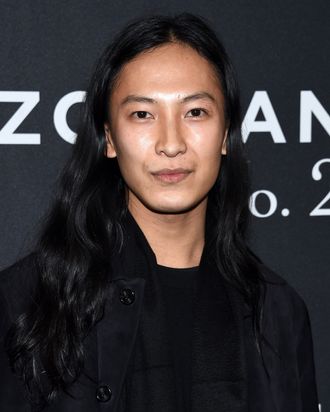 Alexander Wang
Photo: Dimitrios Kambouris/Getty Images
Alexander Wang made a surely-rare trip above 14th Street last night for an interview as part of the 92nd Street Y's Fashion Icons series with Fern Mallis. Not only was it a debut for him, but it probably marked the first time the venue's audiences were subjected to (a) the term "Wangfest," (b) a video of Kylie Jenner, Tyga, and the rest of the #WangSquad trashing a mansion, and (c) tips on partying so, so hard. But Wang delivered all of this and more during his lively, giggle-and-hair-toss-filled talk with Mallis. Here, some of his best sound bites from the evening.

On how he rages so hard: It's all mental. If you think, "Oh my gosh, I'm going to be hungover tomorrow," it's going to kill you. But if you're like, "I'm going to drink tonight, I'm going to make it tomorrow…" [Laughing]
On his first-ever hangover: I just reached 32 and I think I experienced it last weekend for Halloween. It's a dark time right now.
On what it's like working with his entire family on the company: It's kind of like cutting an onion. You're really excited to eat the onion, but you're crying at the same time … They're like, "Hey, come over for dinner," and you're like, "I just spent Monday to Friday with you."
On his first fashion show: We were backstage and someone on the casting team was freaking out. She called my casting agent and was like, "I don't know what to do, all the models are eating pizza and their fingers are greasy." She said, "Where's Alex?' He's eating pizza also!"… [At the shows now] we do gluten-free [catering].

On his short-lived time at Balenciaga: I don't speak French, and I need my Vietnamese food on the weekends, so it was a hard struggle. I would fly Sunday night red-eye, get there Monday morning at 6 a.m., go to the office at 9, take the red-eye Friday, have dinner with my friends, and do it all again two weeks later.
On running down the runway at his last Balenciaga show: I was like, Yessss … JFK [Airport]!
On this how this year's Wangfest came about: It started as "We're not going to have a party right now." [Laughs]