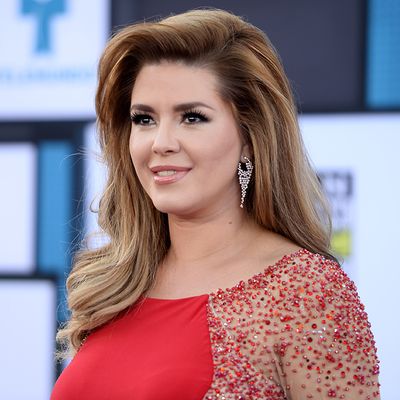 Alicia Machado.
Photo: Matt Winkelmeyer/Getty Images
Former Miss Universe Alicia Machado revealed that she has received death threats for campaigning against Donald Trump, who famously referred to her as "Miss Piggy" and "Miss Housekeeping" before falsely accusing her of having a sex tape during a 3 a.m. Twitter rant.
In a new interview with People en Español, Machado opened up about her experience during the election season. The Venezuela native became a U.S. citizen in August so that she could vote against Trump. Soon after, she garnered national attention when Clinton brought her mistreatment during the first presidential debate. The sudden attention, as well as Trump's Twitter rant, prompted hateful comments and death threats, Machado said.
"To be in this position, they're going to say that I'm a whore. It's already happening. They're saying it again. That I look fat or old. Of all the things they can say to me in this moment, I already lived it," she said.
However, Machado refuses to let the comments silence her, she told People en Español. "They won't intimidate me because I'm backed up by the truth. As long as I'm firm and strong in my convictions, I'm at peace and moving forward," she said.