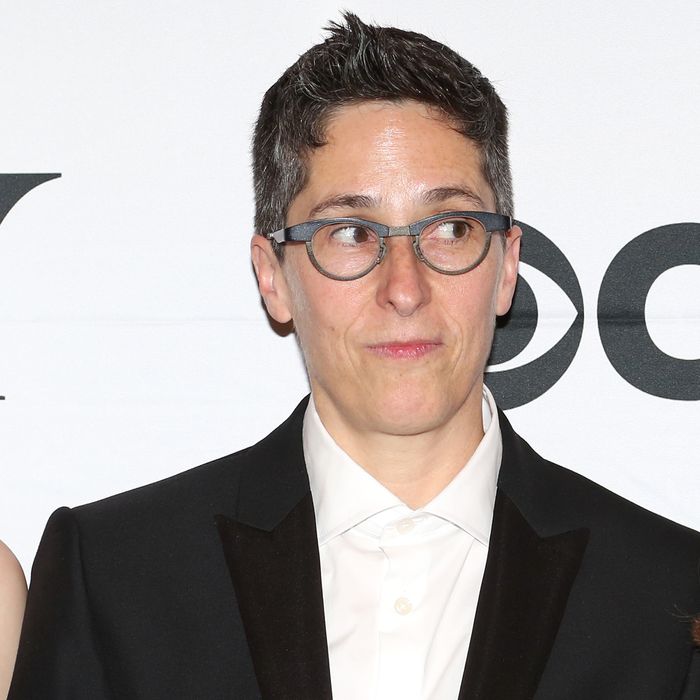 Alison Bechdel.
Photo: Walter McBride/WireImage
Cartoonist Alison Bechdel returned to her newspaper roots this Thanksgiving for a little post-election surprise. The MacArthur grant–winning artist and writer drew a new strip of Dykes to Watch Out For, the beloved ongoing comic, entitled "Pièce de Résistance." It was published in the Vermont alternative weekly newspaper Seven Days, which was one of many indie papers to publish DTWOF over the years. "Working on it made me feel a little less awful," Bechdel said.
Bechdel ended DTWOF in 2008 and went on to write and illustrate her first memoir, Fun Home, which was adapted into a Tony Award–winning Broadway musical, and Are You My Mother?: A Comic Drama. She also inadvertently created the Bechdel Test, which pop culture fans and critics use to determine the gender bias of a film or TV show. Two characters in a DTWOF strip called "The Rule" try to figure out what to go see at the movie theater based on three rules: There are two or more women who talk to each other about something other than a man.
Bechdel wrote on her site:
Since I stopped drawing Dykes to Watch Out For at the tail end of the Bush administration, people have asked me many times if I thought about my characters, and if so, what they were up to. And I would have to be honest. No, I didn't think about them, and I had no idea what they were doing.

But last week they all started flooding back.