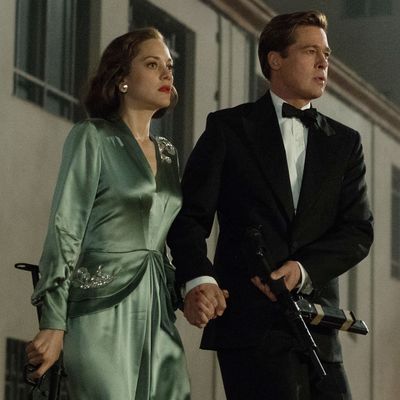 Marion Cotillard and Brad Pitt in Allied.
Photo: Daniel Smith/Paramount Pictures
Costume designer Joanna Johnston had only two weeks to do research before outfitting Marion Cotillard, Brad Pitt, and the rest of the cast of Robert Zemeckis's upcoming film Allied in World War II–era garb. Luckily, you would never suspect that fact while watching the film. Cotillard's wardrobe, in particular, shines, whether she's wearing glamorous loungewear (like the delectable dressing gown below), sequined gowns, or chic military-style ensembles. She and Pitt play romantically entangled spies who flit from Casablanca to occupied London, and Johnston consulted with both actors regularly as part of her research. Luckily, she says, "they both absolutely went with it 100 percent."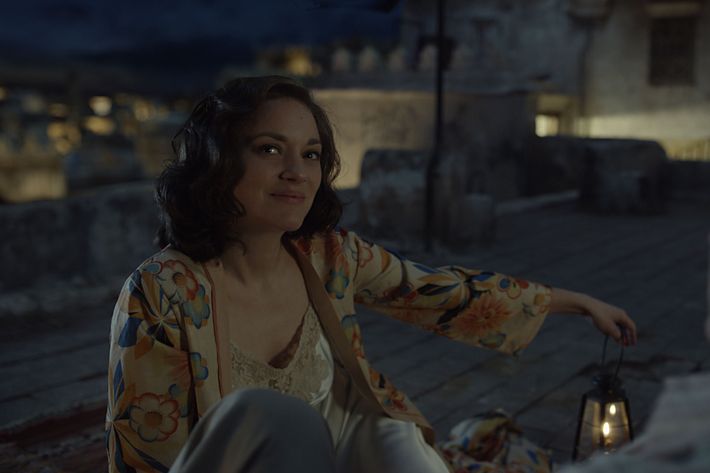 Johnston also studied Old Hollywood films from that era — the onscreen wardrobes of Lauren Bacall, Barbara Stanwyck, and Katharine Hepburn were particularly influential. She looked at Casablanca, not just for the shared setting but "because it has a real timeless quality and all Ingrid Bergman's stuff then looks as good today as it ever did. You could wear it today." And Bette Davis's ugly-duckling-turned-swan character from Now, Voyager, served as an inspiration for Cotillard's glamorous pieces.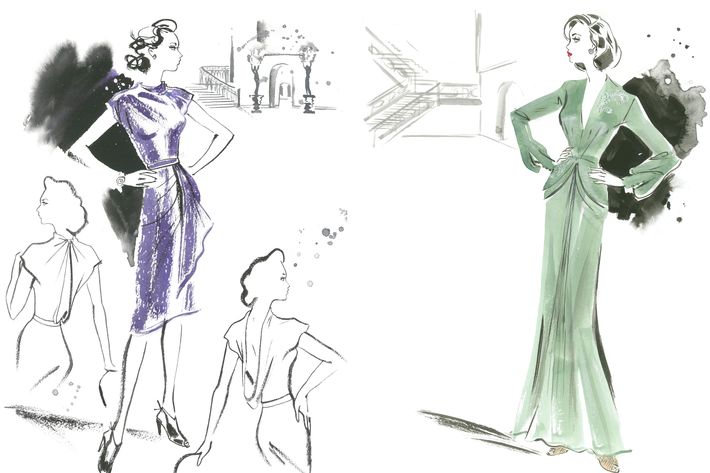 Cotillard's character, to phrase it in the most spoiler-free way, may not be exactly who she seems. Johnston didn't hint broadly at mystery or subterfuge when costuming the character, but she does say, "She takes on the mantle of what she's meant to be. She cloaks herself in this imagery, which is what she wants the perception of her to be." Johnston looked at French fashion plates from the era so that she could convey the uniquely Gallic quality of Cotillard's wardrobe. And it seems that Cotillard herself was pleased with the result: At a screening of the film hosted by The Cinema Society & Chandon, the actress told the Cut, "The costumes are one of the layers of this character, so of course it helped [with] getting into character," adding that the military-inspired jacket and trousers she wears during a target-practice scene in the desert was one of her favorite looks.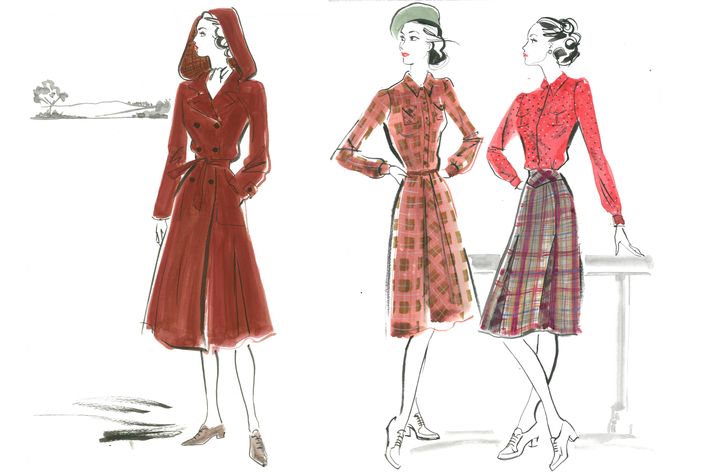 Another challenge for Johnston was getting the military uniforms right: She had scores of actors to outfit, from the Vichy French occupiers to the British and Canadian navy, army, and air force officers. Andrew Fletcher, a frequent collaborator of Johnston's, did the heavy lifting with that segment of the film; she says he gave her "a two-year-degree course in a week."
Many costume designers will tell you that making characters look fashionable or stand out isn't always the goal with their craft — they want the figures onscreen to look authentic, even if that means making their clothes realistically bland. Johnston says that she's taken that approach with some projects, but that Allied couldn't be further from that M.O. — it feels, in some ways, like it's an Old Hollywood piece from the "gowns by Adrian" era. "I felt that it definitely lent itself to what I call the 'Hollywood Lift' in its look," she says. "Because it's the way the story read to me. It had this old-fashioned quality." And for audiences looking for a moviegoing escape, the high-wattage fashions will likely be a highlight.

Allied opens on November 23.

Josh Grossberg contributed additional reporting to this piece.