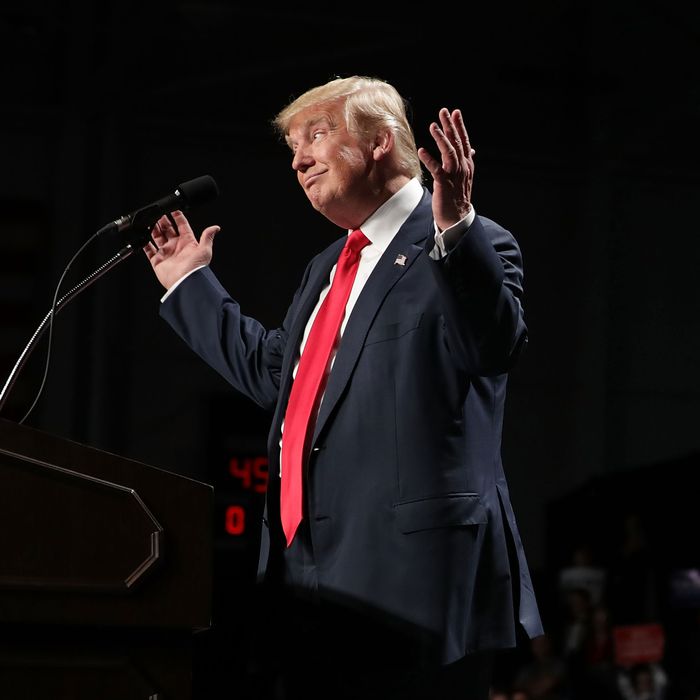 For many women, "Grab them by the pussy" is a reality.
Photo: Chip Somodevilla/Getty Images
When Donald Trump was caught on tape bragging about groping women in 2005, hundreds of thousands of women tweeted their own sexual-assault experiences in response, using the hashtag #NotOkay. "Women have tweeted me sexual assault stories for 14 hours straight. Minimum 50 per minute," wrote Kelly Oxford, who started the hashtag. And a new survey suggests that the majority of women have had similar experiences.
According to a poll conducted by Morning Consult, 45 percent of women say they've experienced, "unwanted physical conduct or touching of a sexual nature." Forty-nine percent said they'd been touched without their consent, 60 percent had been on the receiving end of sexual jokes, and 56 percent had been catcalled, writes Fortune.
The poll was conducted between October 21 and 25, just a few weeks after the Access Hollywood tape with Trump's comments was released. It included 1,058 female registered voters.
As Fortune points out, hard data on sexual harassment and sexual assault is relatively rare, as both tend to go underreported. But polls such as this indicate that the problem is much more widespread than a single candidate for president.