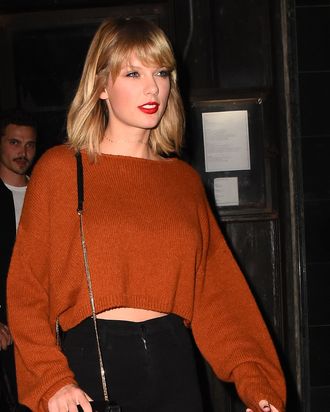 Taylor Swift.
Photo: Raymond Hall/Getty Images
Taylor Swift definitely voted in the recent election, but who she voted for remains a mystery. Yet the alt-right is working pretty hard to convince people that she cast her ballot for Donald Trump.
Lifeeventweb.com, a website that promotes fake news, published a false story claiming that Swift has publicly said that she voted for Trump, according to Gizmodo. The article, entitled "Taylor Swift SHOCKS Music Industry: 'I Voted for Trump,'" is just one piece of many pieces of Trump propaganda the site has churned out.
In the fabricated article, Swift is quoted as saying, "We need more and more jobs. Unemployment is way up here. He's hired more employees, more people, than anyone I know in the world." As Gizmodo pointed out, that same quote was used in a previous hoax trying to convince people that Denzel Washington was a Trump supporter.
The article has had a "distressing" number of shares on Facebook by people who've seemingly taken the story as fact, Gizmodo notes. As in past elections, Swift kept her political opinion to herself this time around; she did urge people to vote in an Instagram post before the election, but that's about as political as she's willing to get.