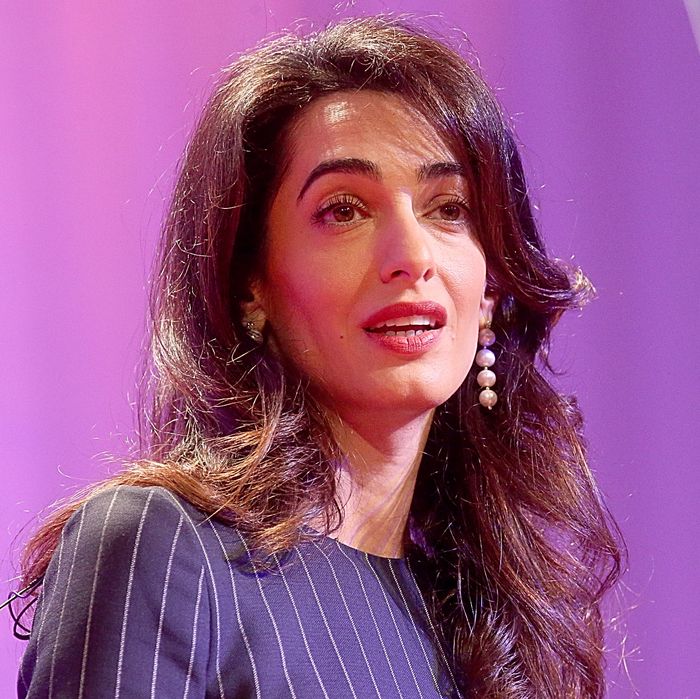 Photo: Gary Miller/Getty Images
International human-rights lawyer Amal Clooney gave the keynote speech at the Texas Conference for Women earlier this week, and naturally she spoke about the one topic that's on everyone's mind, President-Elect Trump. Clooney, who is married to actor and outspoken Democrat George Clooney, seemed cautiously optimistic about one aspect of Trump's proposed policies — his desire to defeat ISIS. (Clooney stated in September she wants to put ISIS leaders on trial for the systematic sexual abuse of Yazidi women.)
"The president-elect has said that fighting ISIS is actually a priority … so it may be that there can be progress, and obviously everyone has to respect the outcome of the democratic process here, and we have to hope for the best," she told the audience.
On the other hand, Clooney spoke out against Trump's proposed Muslim registry, among other policies, referring to them as "violations of international human-rights law and the values that underlie that," noting that "there's some concern from abroad as to are these things actually going to happen, or is the U.S. going to lose some of the moral standing that it has internationally."
Despite Clooney's tentative hope that Trump could help fight ISIS, she made it clear she doesn't support any sort of misogyny. She urged women to perform "everyday acts of feminism" for each other and to support each other at work as in everyday life.
"The worst thing that we can do as women is not stand up for each other, and this is something we can practice every day, no matter where we are and what we do — women sticking up for other women, choosing to protect and celebrate each other instead of competing or criticizing one another," she said, adding the key HRC quote, "Women's rights are human rights."
"Holding back women is holding back half of every country in the world," Clooney said.