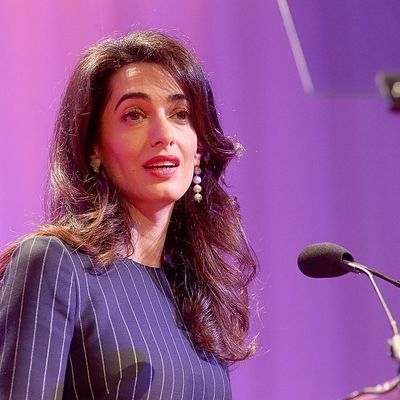 Amal Clooney.
Photo: Gary Miller/Getty Images
Acclaimed international human-rights lawyer Amal Alamuddin Clooney has addressed her fair share of leaders from around the world. Her wide-ranging legal accomplishments to date, along with her (dreamy) actor husband and (but of course!) impeccable style have made her an idol to many. Let's not forget the woman has even inspired a thriller! So suffice it say that with her international circle of friends and leaders, Clooney has plenty of people whom she can look to and claim as a role model. At the Texas Conference for Women, though, Clooney revealed that growing up she didn't have to look too hard to find a role model. She found one in noted journalist Bariaa Alamuddin. As in — yep — her mom.
"I think growing up my mother was definitely a role model, she was always a working woman and someone who is independent and cared about her career and cared about being independent but also had balance," she said during the conference's Q&A, according to People. "She never lost her femininity and she believed the balance was important and that is something that stuck with me," Clooney added.
Clooney also spoke about women's rights around the world, and ended her remarks by declaring that all women share a bond resulting from the lived experiences that are unique to being a woman. She ended on this hopeful note: "The worst thing that we can do as women is not stand up for each other … Because if we are united, there is no limit to what we can do."