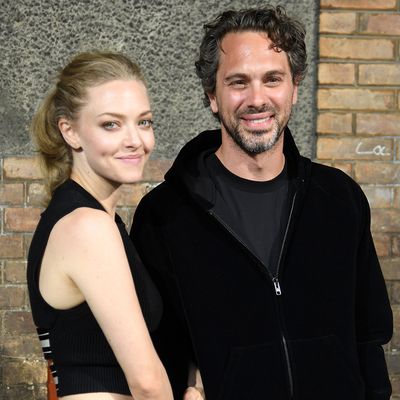 Photo: Pascal Le Segretain/Getty Images
Amanda Seyfried didn't announce her pregnancy with a cutesy Instagram photo, an exuberant tweet, or even a good ol' press release asking for privacy (while totally welcoming congratulations). Instead, Seyfried decided to make the announcement in a not-so-subtle way by showing up to a press event and letting it be known to all. According to People, Seyfried attended a Givenchy perfume launch for Live Irrésistible (she's a spokeswoman for the fragrance) and made the announcement there.
Though exactly how she made the announcement is a little unclear. Did Seyfried just let the photographers take note of her emerging baby bump beneath the black cocktail dress she was wearing? Did her publicist make the announcement for her as she stepped before the cameras? These are the questions we're left with when Seyfried doesn't share the news via social media like the rest of us mere mortals.

Regardless — congratulations are in order for Seyfried and her fiancé, Thomas Sadoski!