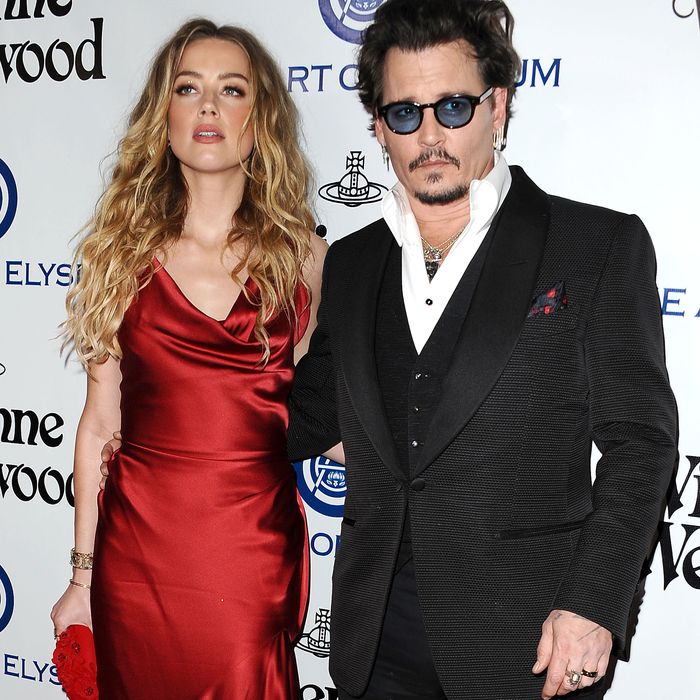 Amber Heard and Johnny Depp.
Photo: Jason LaVeris/FilmMagic/Getty
Last Friday, on the U.N.'s International Day for the Elimination of Violence Against Women, Amber Heard spoke in emotional terms about her experience with domestic violence for a PSA developed by Amanda de Cadenet's "Girl Gaze" project. Heard made no mention of her alleged abuser, Johnny Depp, in the video, because legally she could not. When Heard settled her divorce from Depp in August, she agreed to refrain from talking any more about the abuse allegations she had made against him. Still, Depp must be unhappy with Heard's decision to appear in the video, because TMZ — the gossip outlet that did Depp's dirty work throughout the divorce — is smearing Heard once again.
This afternoon, TMZ published a misleading attack against Heard, suggesting that she is keeping her $7 million divorce settlement instead of donating it to charity as promised. With the headline, "Amber Heard: CHILDREN'S HOSPITAL MONEY MIA," the report begins, "Amber Heard vowed to stuff the coffers of Children's Hospital and the ACLU's domestic violence unit, but more than 3 months after she struck a $7 million settlement … she hasn't given them a dime." This is a completely deceptive representation of the current situation. The settlement money is not "MIA," it is with Depp, who has apparently refused to turn it over to Heard so that she can make her donations. Depp wants to make the donations himself, so that he can get a tax deduction. TMZ's report acknowledges all of this but still somehow blames Heard for the holdup.
What's more, TMZ suggests that Depp may be rethinking the settlement altogether. Because Heard appeared in the domestic-violence PSA, TMZ reports, "It's unclear if Depp will now honor the settlement." Would he really try to renegotiate? TMZ, forever in his corner, leaves the threat hanging.
For Heard's part, her lawyer Pierce O'Donnell responded to TMZ's report with an unequivocal statement. "The settlement documents are being finalized and will be signed this week," he said. "Johnny is obligated by the settlement to pay Amber, and she in turn will honor her pledges to Children's Hospital and the ACLU." He also noted that Heard's PSA does not violate the terms of the settlement. Depp, meanwhile, made no official statement to TMZ.