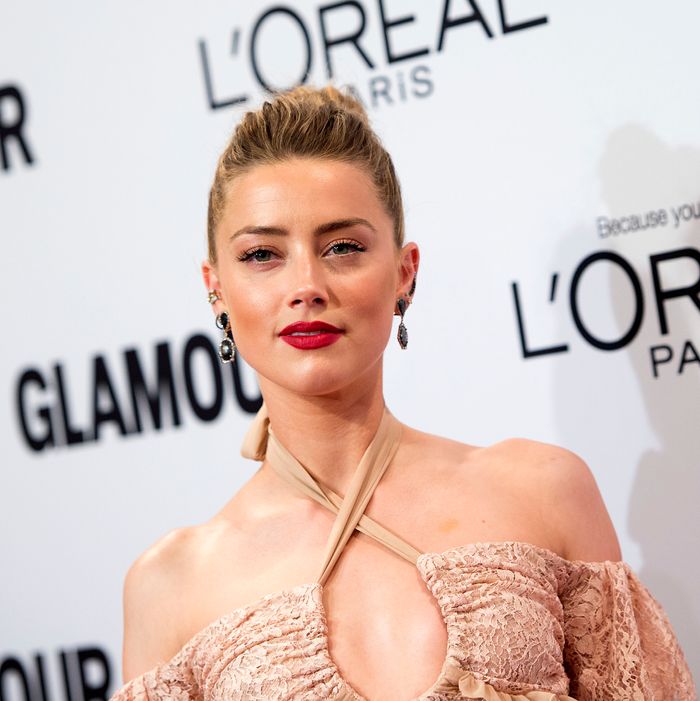 At Glamour's Women of the Year Awards
Photo: VALERIE MACON/AFP/Getty Images
Amber Heard spoke out about her experiences with domestic abuse in an emotional video for the GirlGaze Project, a multimedia project spearheaded by Amanda de Cadenet, in honor of the EU's International Day for the Elimination of Violence Towards Women. The actress, who filed for divorce from Johnny Depp this summer citing abusive behavior, spoke emphatically and tearfully about how she was able to get out of an abusive situation and how she hopes to help others do the same.
"[I thought] 'How is this happening to me? I'm strong. I'm smart. I'm not a victim,' to my detriment. I guess there was a lot of shame attached to that label of 'victim.' It happens to so many women. When it happens in your home, behind closed doors, with someone you love, it's not as straightforward. If a stranger did this … it would be a no-brainer."
"Telling someone safe is the beginning of choosing yourself. Think about it. If I hadn't had that, if I hadn't had a few people that I really trust around me, a few women, support, a few friends, if I didn't have them around me, how different my life would be."
"Just as a woman having gone through this in the public stage, in the public arena that I did it in, I am able, I have a unique opportunity to remind other women not only [that] this doesn't have to be the way it is, you don't have to do it alone. You're not alone. And also, we can change this. Violence against women is not limited to actual physical violence. It is also about how we deal with it and how we talk about it in the media and in our culture. And us taking responsibility for it is what really needs to change. We need to take responsibility for how we talk about these things. It's the only way that people are going to feel comfortable in coming forward, raising their voices, standing up for themselves, is if we change the system in place that keeps them quiet.
"Speak up. Speak up. Raise your voice. Your voice is the most powerful thing, and we, together, as women standing shoulder to shoulder, cannot and will not any longer accept silence."
The original video had been taken down from GirlGaze's Facebook page, but it has since been posted on Amanda de Cadenet's Facebook page and YouTube channel, and reposted on GirlGaze's Facebook page. We have reached out to GirlGaze for comment.