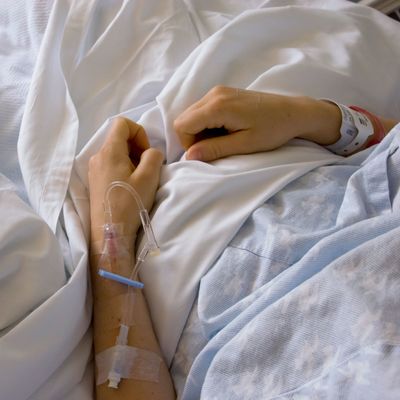 Women's cancer deaths are on the rise.
Photo: Elizabeth Fleming/Getty Images
Cancer is a leading cause of death for women worldwide, with 3.5 million women dying of the disease in 2012 alone. However, by 2030, that number is expected to increase by 57 percent, claiming the lives of 5.5 million women, according to a new report from the American Cancer Society.
The report, titled "Global Burden of Cancer in Women" found that, while cancer deaths are expected to increase across income groups, women in low- and middle-income countries will likely be the most affected. The life expectancy of women in those countries has increased, but there has also been an increase in smoking, physical inactivity, and excess body weight. But the report found that prevention and early-detection interventions could prevent up to half of cancer deaths, since screening can lead to the removal of precancerous lesions or the detection of cancer at earlier stages.
"It's incumbent upon both the public and private sectors, as members of the global health community, to find ways to reduce the impacts of cancer on women by increasing prevention and treatment, saving the lives of women across the globe," former U.S. ambassador Sally Cowal, senior vice-president of the American Cancer Society, said in a statement.
World Health Organization estimates found that there were 6.7 million new cancer cases in women worldwide in 2012, according to the report. That figure is expected to increase to 9.9 million new cases by 2030. Breast, lung, and colorectal cancers are leading causes of cancer deaths in women in more developed countries, while breast, cervical, and lung cancers are the top killers in less-developed regions.
"To prevent cancer in the future, countries must prioritize policies to reduce known cancer risk factors and make prevention accessible to all. For those who have cancer today, effective treatments and palliative care are also needed," the report said.