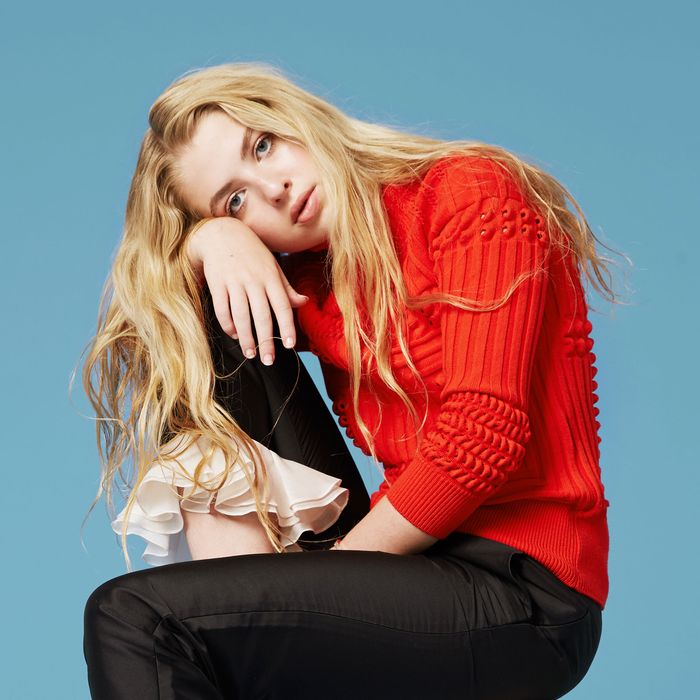 Anaïs Gallagher wears the best of London fashion.
Photo: Lottie Bea Spencer
In a spare studio in London's Kentish Town, an incongruous tune comes on the otherwise hip-hop-heavy playlist: Kacey Musgraves's "Dime Store Cowgirl." Anaïs Gallagher, the 16-year-old reason we're all here today, breaks her pose for just a moment to make a lassoing motion. "I feel really country in the dress," she jokes of her ruffly blue Erdem gown.
In fact, Gallagher is about the furthest from a small-town striver a person could be. She was born to British rock royalty: Oasis front man Noel Gallagher and Meg Mathews. (They split when she was 8-months-old.) At 13, she was signed to Select Models, the agency that reps Agyness Deyn and Natasha Poly. Since then, she's been a part of the great British TV-presenter tradition (see also: Alexa Chung and Nick Grimshaw), hosting a CBBC show, Friday Download, for a while. She was recently named the new face of Reebok, which is currently attempting a Gigi Hadid–assisted vault back to the top of the athleisure heap. And, thanks in part to that surname, she makes it into the Daily Mail a lot.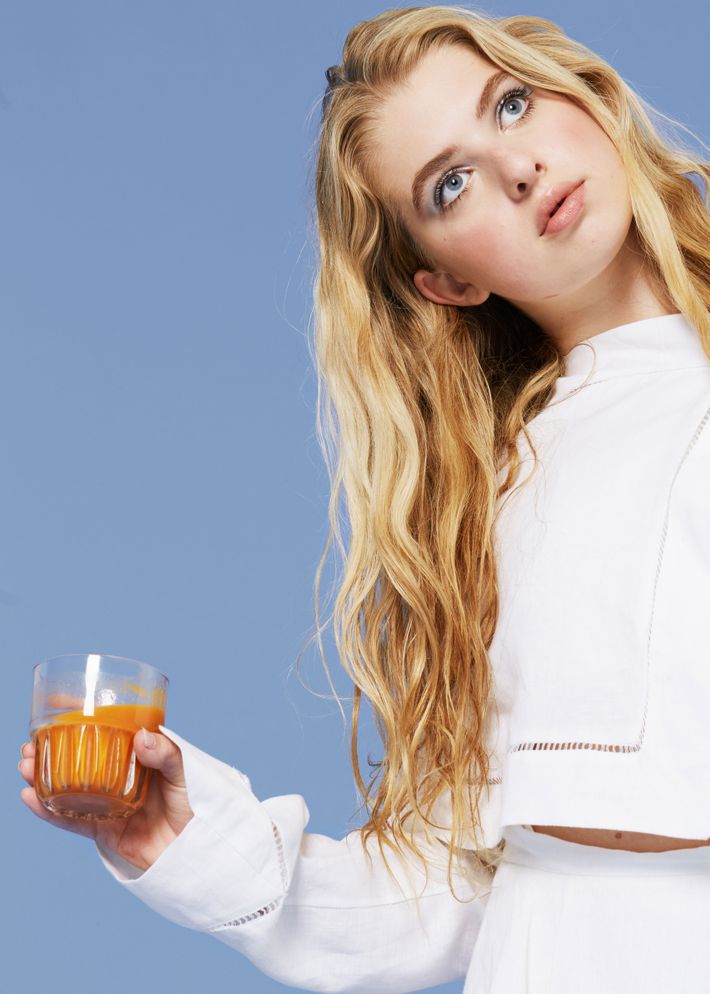 J.W.Anderson fold-over crop top, $1,035; Maxi handkerchief skirt, $1,985 at All Too Human
That said, Gallagher comes across as anything but spoiled or entitled. She made the rounds this past fashion month, turning up at Mulberry and Margiela, but she's only allowed to go on the weekends, "because I've got school and stuff." Her evening plans routinely involve homework, not an after-party. Believe it or not, dad can be very strict. "People would come around to my house and make loads of noise," she recalls. "And my dad would tell them off and people would be like, 'What?' They kind of expect that because he's a rock star he's going to be really cool — I mean, he is really cool, but he's really strict."
Her upbringing puts Gallagher in a netherworld between sheltered regular teen and budding celebrity. She certainly seems like any other 16-year-old girl as she arrives on set in a white T-shirt and corduroy overalls, or as she slumps in a bathrobe between takes, multicolored clips in her blonde hair, sipping on a can of Old Jamaica ginger beer. When I ask her if it's weird to be doing magazine pictorials one day and trigonometry the next, she says, "I go to a school which is full of children of famous parents, the same kind of background as me. I'll come in and be like, 'Oh, look at my photo in Love magazine' and my friends will be like, 'Look at my photo in Love magazine.' I don't go out so much in designer clothes purely because I'm 16 and I'm quite clumsy and I go to school and that would look just a bit silly." Instead, she collects sneakers. (She's stockpiled ten different colors of Reebok Classics.) Recently, she tried to take an old dress of her mom's to be altered to fit her, only to have her explain that it was a custom design Alexander McQueen had made for her in the '90s. "You can't just take it to get chopped up," she recalls her saying. She borrows from her dad's wardrobe, too: "I steal his old football shirts." (No, it's not lost on her that her Reebok imagery — and streetwear in general — now echoes the clothes her parents used to wear in the Rule Britannia era.)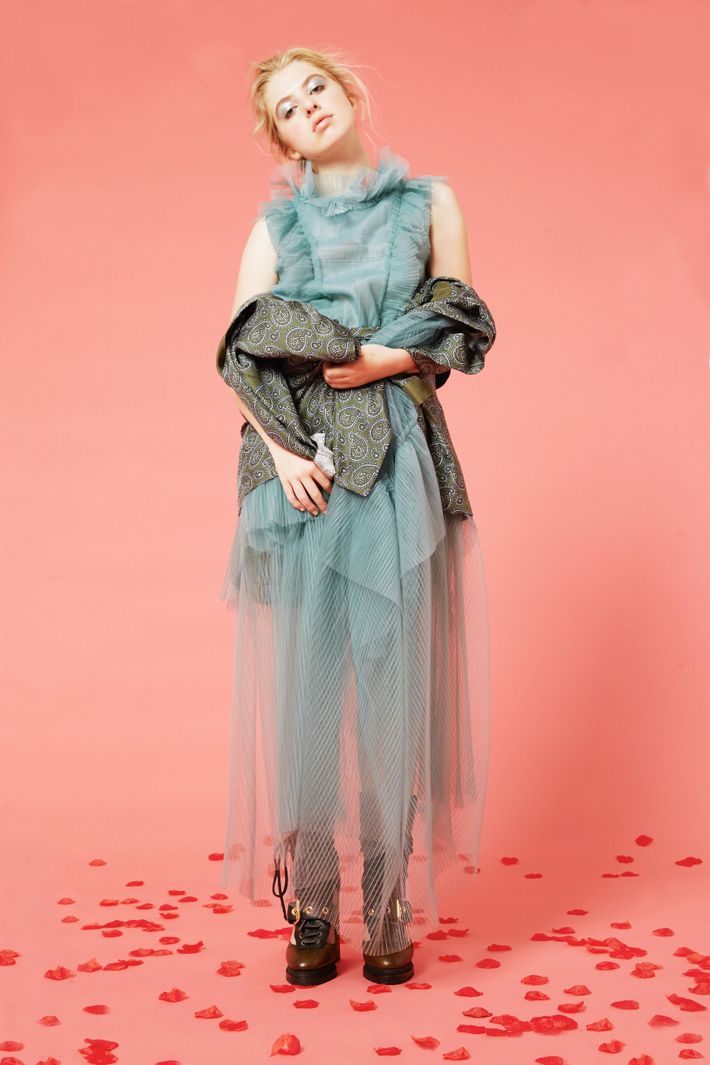 Silk trench dress, $1,995 for similar at Barneys New York; tulle gown, $3,295 at Barneys New York; leather and snakeskin cut-out boots, $1,795 at Burberry; all Burberry
But having famous parents and schoolmates and a perch on the front row doesn't mean she's immune to typical teenage problems. They just tend to occur on a larger scale. Take a photo she posted on Instagram a little while ago. "I don't shave my armpits. That's just a thing that I don't do," she says. "And I posted a photo on Instagram and I didn't get any negative comments, but then the next day it was in the Daily Mail and then they were giving me negative comments. When stupid shit like my armpits is more important than actual news, that really frustrates me." Earlier this year, that frustration came to a head: "I kind of had a bit of a breakdown," she recalls, and deleted Instagram off her phone. (She has since brought it back.)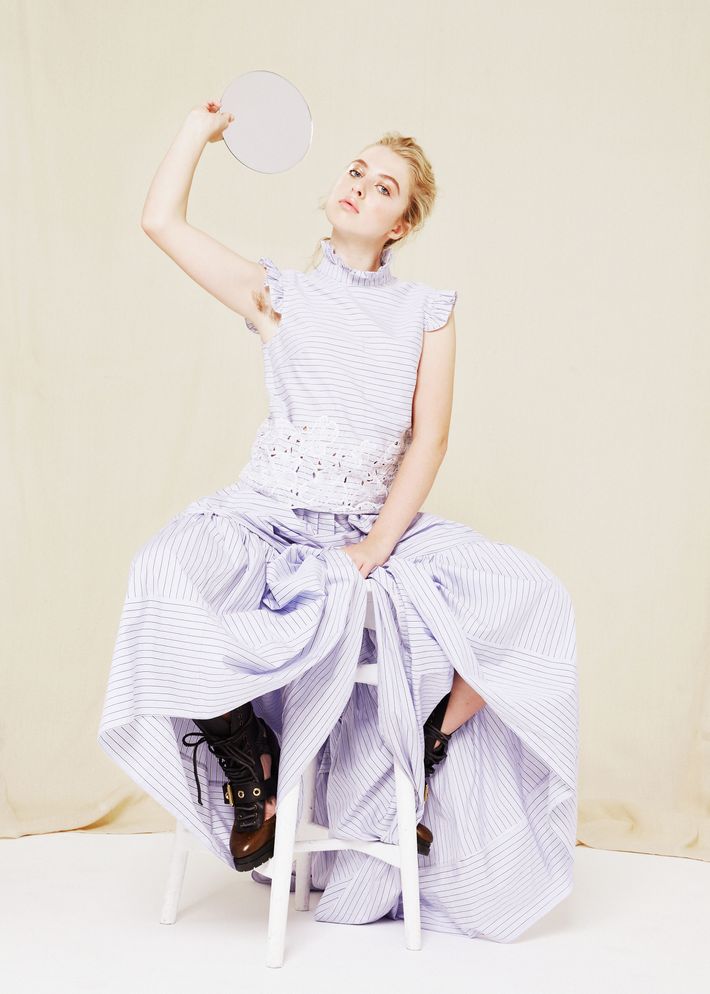 Erdem Mika top, $1,040 at Matches Fashion and Emerald skirt, $2,525 at Erdem; Burberry leather and snakeskin cut-out boots, $1,795 at Burberry
"I always say I've got too much to say to be a model," Gallagher says. That's why she was initially drawn to TV presenting, though she eventually soured on it. "This is going to sound really bad, but it was just too easy. I mean, I could do it with my eyes closed." She's planning on going into acting and just finished a round of auditions in L.A. — most of which were for horror movies. She thinks she's been getting those calls because "I look really innocent and they always need somebody that looks really innocent in a horror film so that you feel a little bit more sorry for them." And no, before you ask, she isn't planning on following in her family's musical footsteps. "I think people would appreciate that if they ever heard me sing," she quips.

Even though Gallagher is firing on all cylinders right now, she's taking time to enjoy just being a teenage girl, too. "I mean, I go on social media and every 16- and 17-year-old girl looks 25!" she says with wonderment. "They're all getting lip fillers and wearing loads of makeup. I want to get it across that it's okay to be young. I love being young, and I'm not afraid to not look cool. Especially at Fashion Week, when I sit in the front row, you can see all these iron faces and nobody's looking excited. I'm excited! I mean, I'm in the front row of a fashion show and I'm only 16-years-old. I'm not afraid to think it's amazing."
Lead photo: Mary Katrantzou Hardy roll neck sweater, $529 at Matches Fashion; Isa Arfen ruffle-hem pants, $799, Net-a-Porter
Photography by Lottie Bea Spencer. Styling by Diana Tsui. Hair: Terri Capon; Makeup: Laurey Simmons.