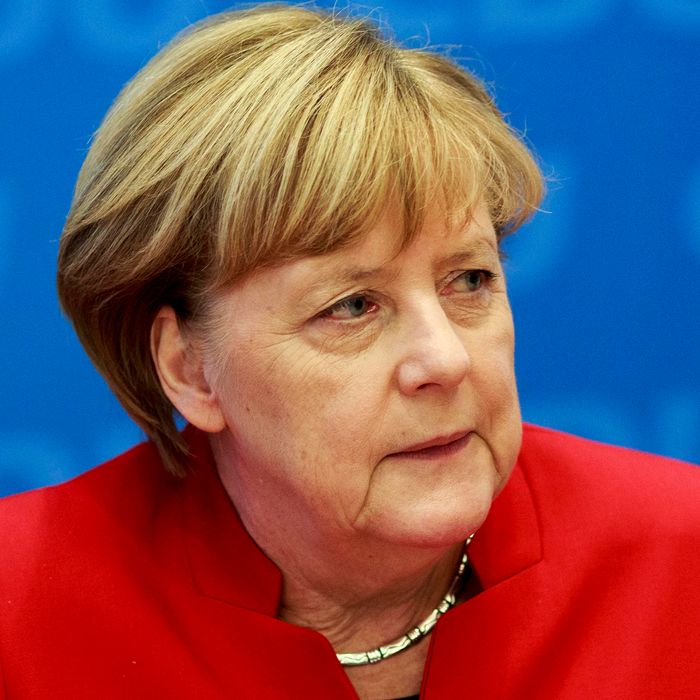 After President Obama leaves office, Merkel's style of leadership may stand alone on the world stage
Photo: Sean Gallup/Getty Images
The population of another Western power will get their chance either to maintain or reject their political leadership, as German chancellor Angela Merkel has told her party that she will seek a fourth term in office next year, ending months of speculation. The Agence France-Presse reports that German pollsters think Merkel — the most powerful leader in Europe, as well as the most powerful woman in the world — is likely to win reelection, but her approval rating has also steadily declined over the past year over her handling of Europe's ongoing migrant crisis.
In 2015, Merkel decided to accept a million asylum-seekers from Syria and other countries into Germany, both as a humanitarian measure and to bolster the country's future economy. The backlash that followed, however, allowed populist anti-immigrant forces quickly gain power in the country, particularly the Alternative for Germany party, which has attracted many conservatives who had previously supported Merkel's Christian Democratic Union party. Indeed, the rise of right-wing populist parties has become a resounding trend throughout Europe, and many have seen Merkel as the leader who is best equipped to weather the storm, though even she has admitted that she made a mistake in underestimating the angst her asylum policy would cause.

Then again, it's also possible that German voters may opt to retain Merkel after having seen the impact of recent democratic upheavals in the U.K., America, and possibly France — depending on the results of that country's Spring presidential election.
Speaking to reporters after her announcement, the 62-year-old Merkel warned that the upcoming election would be difficult "like no other election since the reunification." She added she was honored that some around the world are now looking to her for leadership — some are calling her the post-Trump leader of the free world — but Merkel said that she finds the expectation "very much grotesque and almost bizarre," since she doubts the ability of any one leader to single-handedly improve the world.