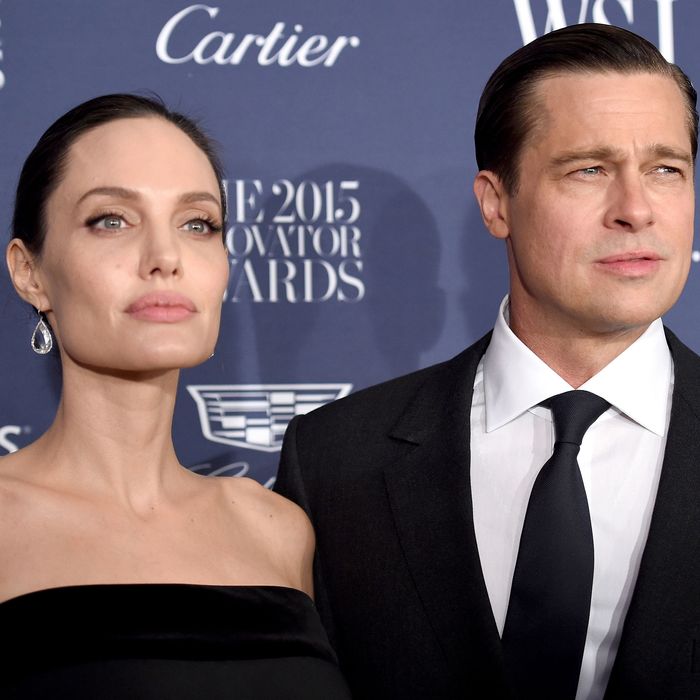 Angelina Jolie and Brad Pitt.
Photo: Dimitrios Kambouris/Getty Images for WSJ. Magazine 2
On the eve of the presidential election came the news that on any other day might have been front page on the celebrity circuit: Angelina Jolie and Brad Pitt reached a custody agreement for their six children. A spokesperson for Jolie said the agreement between the once-happily-married couple was finalized more than a week ago and calls for the children to remain with Jolie while Pitt will continue receiving "therapeutic visits."

The Associated Press broke the news late on Monday evening, just as news outlets everywhere were gearing up for Election Day coverage the following morning. Jolie's rep released a statement saying that the two sides were fully "committed to healing the family," according to the AP. It should be noted that Pitt's representatives declined to comment on the custody agreement, but the new resolution seems at odds with Pitt's earlier request. Just days earlier, on Friday, Pitt formally responded to Jolie's petition for a divorce and in it he asked for joint custody of their children, which range in age from 8 to 15. Per the new statement from Jolie's camp, the custody agreement was made prior to Pitt's request last week. The negotiation timeline appears off.

If earlier tabloid reports are to be believed, everything leading up to this announcement signaled that talks between the estranged couple weren't going well. In fact, all signs pointed to Jolie gearing up for a full-blown "war" with Pitt. Somehow, this latest statement doesn't seem at odds with that theory.