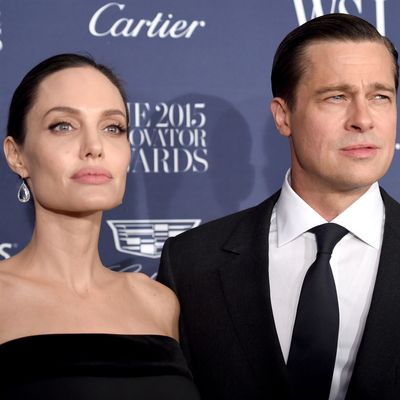 Brad Pitt and Angelina Jolie.
Photo: Dimitrios Kambouris/Getty Images for WSJ. Magazine 2
When we checked in on the status of Angelina Jolie and Brad Pitt's divorce two weeks ago, the estranged couple was privately negotiating while the Los Angeles Department of Child and Family Services continued its investigation into Pitt's alleged bad behavior. Today, that investigation is still ongoing, and those private negotiations appear to be breaking down.
On Friday, Pitt filed an official response to Jolie's divorce petition, which he previously said he would not do, because he wanted to avoid a "nasty legal battle." Well, bring on the nasty: Pitt is asking for joint custody of the couple's six children in response to Jolie's original request for sole custody. Jolie currently has sole physical custody of the children thanks to a temporary deal with the DCFS, and now Pitt is ready to fight her on that for the long term. People, the tabloid that Pitt's camp has been leaking to throughout the divorce, admitted this weekend that Pitt's filing signifies a "difficult custody fight" ahead.
Jolie has been prepared to fight Pitt for custody from the beginning, so it's no surprise that TMZ, her camp's gossip outlet of choice, posted a response to Pitt this morning. "ANGELINA JOLIE: Brad's Dreaming … HE'S NOT GETTING JOINT CUSTODY," the site blared. Sources "connected to Angelina" claim that she's "ready and willing to fight" Pitt in court. And the kicker? "Until he gets his s**t together," the sources say, Jolie wants Pitt to have only monitored visits with the children. She is sticking to her original line that Pitt has "substance abuse and anger issues that must be addressed." TMZ closed the post with a specific warning: "One Angelina source said this is looking more and more like 'War of the Roses redux.'" So it's a death match now.
Since Jolie filed for divorce in September, we've seen a few flare-ups like this, and they've always been related to the main (only?) issue in the divorce: custody. Jolie is aggressively pursuing an extreme position, and Pitt cannot seem to figure out how to match her. Now she is sending him a clear message: Before she will come to the bargaining table, he has to "get his s**t together." His alleged "substance abuse and anger issues must be addressed." Does this mean Pitt has to go to rehab?