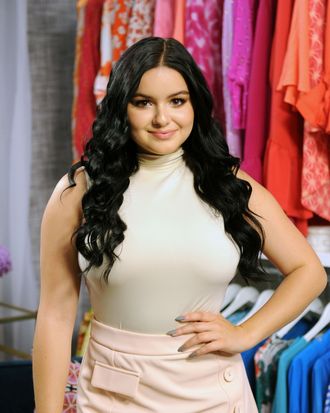 Ariel Winter.
Photo: Craig Barritt/Getty Images for Amazon
Ariel Winter has been in the public eye since she was 11, when she first started portraying Alex Dunphy on Modern Family. Growing up in front of millions of people would be awkward for anyone, and the now 18-year-old has been outspoken about the mean comments she's received online. To help combat negativity and change the way people talk about beauty, Winter has teamed up with Dove for its new #SpeakBeautiful campaign. The Cut caught up with Winter at the London Hotel in New York to chat about her new role, body acceptance, and growing up with Sofia Vergara.
How I start my mornings: I'm the worst morning person. I have to get up and sit in silence for a solid six minutes and just accept the fact that it's early and I'm awake. I check my phone, brush my teeth, take a shower. I'm never the type of person who's always focused on breakfast. I never really eat breakfast — I do sometimes and I know it's super important, but if I do eat breakfast I'll probably eat eggs and fruit. I never used to cook, I never used to make eggs or anything else like that, because I was like "Ah, I'll burn the house down." But I decided to start trying and I've found it to be super therapeutic. So in the morning, if I do make something, I like to go make breakfast and make some toast.
Wellness, to me, is: being happy and healthy, really. That's what matters most in people's lives. Feeling good about yourself; feeling like you are content the way you are and that you don't need to change. Feeling like you're healthy, obviously.
On body acceptance: It's been a long journey. I started in the industry when I was 4 years old, but I started in the spotlight when I was 11 years old, when I got Modern Family. I remember being completely flat everywhere – I had no curves, and I was getting hate for that. But then, when I was 12, my body changed, and I had boobs and a butt and these new curves. At first I was like, "Oh, wow, I like this," but soon pictures started surfacing of me online and I got the worst comments. I was called fat and ugly and a slut and all the worst possible things. It was really, really hard for me.
So for years, when I was younger, I would try to change the way I looked. I would do these weird crash diets and I wanted to changed the way I dressed so people would like me on social media, and it never worked. It was always like, no matter what I did, I was always getting this negative, negative, negative backlash. After a while I was kind of like, if I can't please them in any way, I might as well just start doing what makes me happy.
On growing up with positive role models: Working with Sofia Vergara and growing up with her was great, because she was, you know, a really amazing, curvy role model for me. She helped me learn to accept the way I looked and love it and dress for it, and feel good about myself. My sister was also amazing for me, because she was the type of person who would go to the grocery store in sandals and socks and pajamas, and would feel great about herself. Then she'd go out to an event and get dressed up, and feel the same amount of great about herself.
That was really incredible for me to see. Over the years it was really depressing for me to feel that way, looking back on it, the way I felt about myself and trying to change the way I was. But when I started to accept it and move on, and realize the most important relationship I had was with myself, things really started to change for me.
My best wellness advice is: probably to spend less time pleasing others and spending more time on yourself. Focusing on things that make you happy and finding time for things you enjoy doing.
How I sweat: I have a trainer named Gunnar Peterson. He's amazing. I'm not the biggest fan of working out, so it's really nice to work out with him because he makes working out fun and keeps me entertained, so I'm constantly forgetting the fact that I'm squatting. You will never see me on a treadmill; it just won't happen. It just won't. I like to try out all these new machines that he has that are super cool. There are these bikes where you're like biking against another person, like a competition so you're kind of forgetting the fact that you're biking your life away and you're focused on the little screen. There's this really cool machine where you tap all these things and it gives you a super-cool workout. We box; I love boxing. So we do a variety of things that are fun.
How I keep up with wellness on set: It's really difficult because there's always a giant bowl of candy, and people are tired, and sugary things keep everyone awake. It's just important to keep eating every few hours and just make sure you're eating healthy things — fruit, protein, stuff like that. It's important not to eat candy because it just results in a sugar crash, which I've learned, sadly. But also just to keep up a normal routine — getting enough sleep, never working on just an hour of sleep. No partying and then going to the gym. You have to keep up a balance in your life.
On protein shakes: I'm kind of that person who will try anything. I've never been like, I have to drink this shake in the morning at this specific time, or I have to put on some interesting thing to go to the gym. I have my routine of going to the gym and I try my best to eat healthy and do what I do, I see my friends, hang out. I kind of just have a routine of a nice balance in my life of everything; I don't really think about protein shakes.
How I take care of my skin: To be honest with you, I am the worst at all of that. I'm that person who takes a makeup wipe at the end of the night to take all my makeup off. I don't sleep in makeup; I think it's so bad. I know some people do and it's like, that's awesome, I don't know how you do that. But for me, I can't sleep if I feel makeup on my face. I'll be like rubbing on my pillow and sleeping and being like, oh my God, I'm dying. So for me I just have to take my makeup off at night, and then I just wash my face with some soap and water, and I'm good.
This interview has been edited and condensed.