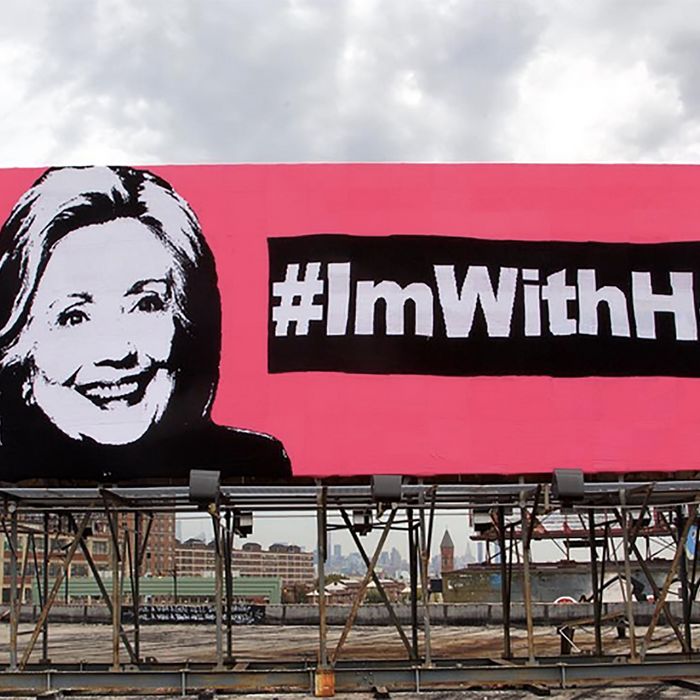 Olek, an artist known for her work with yarn, created the piece with the help of a few dozen volunteers.
Drivers on Route 139, a busy highway in New Jersey, might not immediately realize it, but they're not driving past just any old political advertisement on a billboard. Sure, maybe they notice it's a little strange to see Hillary Clinton's face, rendered in black and white, against a hot-pink backdrop along with the hashtag #ImWithHer. But they might only notice the strangest thing of all after closer inspection: The work is completely crocheted. As in, what was at first glance merely a political billboard is, in fact, also capable of doubling as a massive blanket. A 16-by-46-foot blanket, to be exact.

More accurately, the blanket-on-a-billboard is an art piece by the Polish-American artist Olek, who stitched together the final work with the help of 38 volunteers, according to The New Yorker. Olek's piece, consisting of 94,880 stitches, came together in less than four weeks and was unveiled over the weekend, according to the magazine.
Olek's decidedly pro-Clinton piece is a rarity in an election filled with plenty of artists creating anti-Donald Trump works (see: one particular naked statue). When asked about the dearth of pro-Clinton art, Olek boiled it down to — yep — sexism. Well, partly. She added that Clinton's basically not cool enough for the art crowd. But Olek, an artist known for her work with yarn, doesn't care much about whether a politician fits in among the hipsters. "Hillary might not be cool, but she is qualified, experienced, and competent," she told The New Yorker. "Yeah, I don't want to hang out with her. I don't want to drink beer with her. I don't want to go dancing all night with her. But I want her to be our President."
With the election tomorrow, Olek and her team of speedy crocheters won't have to wait too long to find out the fate of the woman whose face they've been crocheting for weeks.