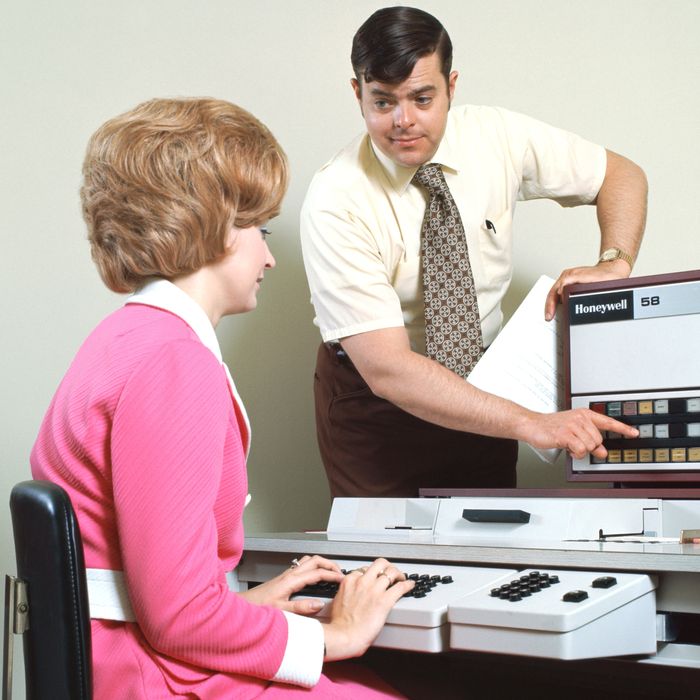 Photo: H. Armstrong Roberts/Getty Images
Get Ask a Boss delivered every week.
Dear Boss,
I need your help. I absolutely hate my new job, and I don't see it getting better anytime soon. I work in IT for a regional company. The benefits are decent, the pay is good, and at a 30,000-foot view, I should love my job. But I don't. The entire IT department is a huge mess, and my team (I use that term loosely) is the most dysfunctional group I've ever seen. It's a split team (some of us work in East Town while most others work in West City). I've not even been here a year, and I already daydream about just never showing up here again. The team in West City does all the work and then complains that the team in East Town does nothing. There's a lot of us-vs.-them mentality despite the fact that we're supposed to be on the same team. The poor management and terrible team have made me go from "How can I help this broken environment?" to "How can I make it through the day?"
My tactic so far has been to keep my head down and just do what's assigned to me and not worry about how terrible things are. The hard part is that simply isn't me. I've started projects only to have them be taken away, changed, and assigned to someone else. It's broken me down to the point where I just don't know how to be effective here. I know how to do my job and do it well, but I just don't know how to be productive in this environment. I've talked with my boss (who sees all of the same issues), and I've talked with his boss (who has the management skills of a washing machine) and he didn't understand the difference between not knowing how to be productive in this environment and not having anything to do.
I have learned important lessons at this terrible job. (1) Don't ever take a job for the money. Almost everyone would be happier at a job they loved that paid less as opposed to a job they hate for better money. Take a job because you believe it's a great next step and/or you believe in their mission. Don't do it just for the money. (2) Don't put all of yourself into a terrible job. If you can't get your engagement and fulfillment from your work, start a garden, train for a 5K, or get some kind of hobby outside of work.
This job has pushed me to go back to school part-time, and I hope to get my bachelors and then my M.B.A. in less than ten years. (Ironically, my job is the sort of job people go to college to get. I'm going to college to get out of it.) I really want to make the best of what I've got, but I'm really not sure how. What can I do to make the most of a job that makes me feel like there's no way I can contribute any value to the company's mission?
The biggest thing? Get really, really clear-eyed about what your company is like, what its limitations are, and what you can and can't expect from your work there.
Right now, you're judging it against what it should be, and so you're constantly finding it wanting and experiencing the frustration of the situation over and over again. But there's real solace to be found in seeing it exactly for what it is — and isn't — and getting clear in your own head about why you're sticking it out there anyway.
Here's what you know: Your department is highly dysfunctional, there's weird competitiveness and unwarranted blame-throwing, the management is terrible, and if you emotionally invest in projects, they may get taken away from you and given to someone else. That all sucks. But if you go forward knowing that those are the conditions and accepting that — not beating your head against the wall trying to change it or wishing it were different — sometimes you can find a way to drain the situation of some of its emotion and angst. Instead you can think, They're paying me to do this project today. I might not still be assigned to it tomorrow, but I'm working on it today and I'll do as well as I can with it while it's mine. You can think, That was a weird management decision, but that's how things go here and ultimately it doesn't impact me that much as long as I don't let myself get mired in annoyance about it. You can think, It's too bad that West City is complaining again that we here in East Town aren't doing anything. It must suck to be so convinced your colleagues are slackers when they're not. And you can roll your eyes and move on.
Also! When you're stuck in a job that you hate, it's really helpful to put the reasons that you're staying there in the forefront of your mind. I'm curious to know what those reasons are (more on that in a minute), but presumably you've determined that whatever you're getting out of staying is worth the trade-off in frustration — whether it's the pay or a five-minute commute or the need to build up a solid work history after a decade of job-hopping or whatever it is. So you can remind yourself regularly, "This isn't how I'd run the department, but I'm here to save up money to pay down my debt, and I'm making steady progress at doing that" or whatever your reason is.
If you're vigilant about mentally repositioning yourself this way, it can often convert an infuriating situation that you can't change into something more tolerable. But there's also a danger to this approach that you'd need to watch out for: It can make you really, really cynical, and over time it can recalibrate your ideas of normal. That can be a problem when you move on to your next job, because you risk taking with you habits and ways of thinking that won't set you up for success in a more functional office. For example, while you might be well served in this job to keep your head down and avoid speaking up about things you'd do differently, that can be a pretty limiting — and even damaging — approach in a healthier environment. And if you get too used to bad management at your current job, you risk tolerating things in the future that should be deal-breakers. So you'd want to regularly step back and remind yourself of what is and isn't normal, and that these are temporary adjustments that you're making for this particular situation for whatever your reasons are for staying, not permanent changes that you should be making to how you think about work more broadly.
However … are you sure you've made that calculation correctly? It jumped out at me that your letter didn't even mention finding a new job as an option you'd considered, so I wonder how seriously you've contemplated whether it might make more sense to jump ship than to go through all these mental contortions to survive at a place you hate. There's some degree of dysfunction everywhere, of course, so you don't want to just run from any job that isn't perfect, but you sound pretty deeply unhappy. So whatever calculation you made that told you that it's worth sticking it out there, it's worth running those numbers again and checking your thinking — and always keeping in mind that you can leave if you want to. You're not stuck there.
Get Ask a Boss delivered every week.
Got something to Ask a Boss? Send your questions to askaboss@nymag.com.