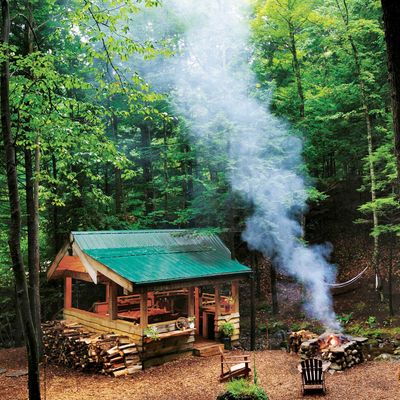 Camp Orenda.
Photo: Dana Romanoff
Avoid cliché and tired bachelorette (and bachelor) party traditions and take the festivities far, far away from Caesars Palace with these outdoorsy ideas. Plus, notes on what supplies you'll need and expert tips on making the most of a weekend in the forest.
Camp Orenda in Johnsburg, N.Y.
Time from New York: 4 hours 10 minutes
Number of people house sleeps: 18 people
Price: $200 per person/night
Booking information: camporenda.com/accommodations/cabins
The details: Six rustic canvas cabins for you glamping types. Each has electricity, wood-burning stoves, fancy bedding, and toiletries. Showers are outdoors. Farm-to-table meals are included, as are on-site activities like canoeing and archery.
The Floating Farmhouse in Eldred, N.Y.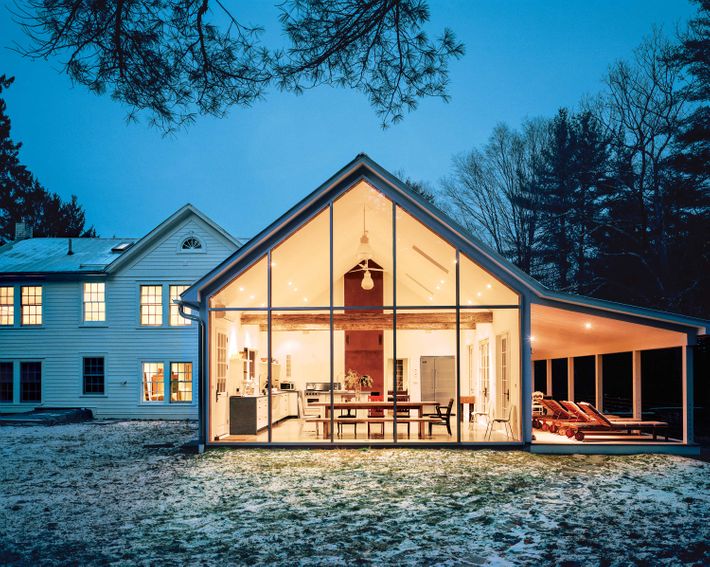 Time from New York: 2 hours
Number of people house sleeps: 15 people
Price: From $750 per night (up to six guests, plus $125 per night for each additional guest)
Booking information: floatingfarmhouse.com
The details: This five-bedroom, 2.5-bath manor home, built in 1820, has a wood-fired pizza oven, exposed wood beams, and a wall of windows overlooking a creek in the Catskills. A covered porch, smokehouse, picnic tables, and gazebo move the party outdoors.
The Barn at Copake Lake in Craryville, N.Y.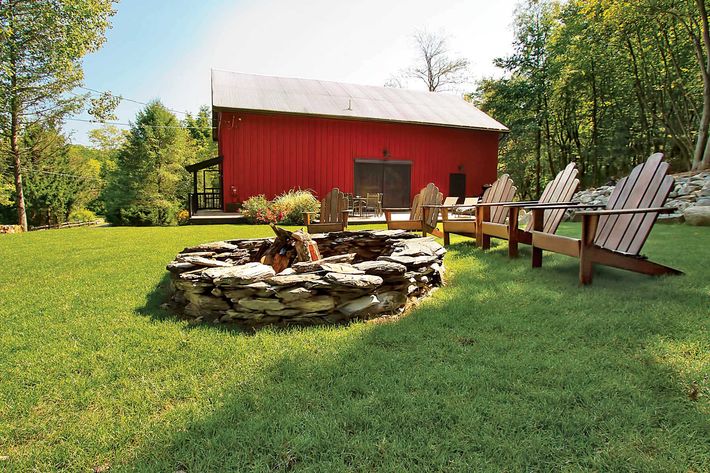 Time from New York: 2 hours 20 minutes
Number of people house sleeps: 15 people
Price: $979 per night (two-night minimum)
Booking information: vrbo.com/414915
The details: An Adirondack-style makeover of an 1827 post-and-beam barn with three beds and three baths. Mitchell Gold furniture gives it a modern air; the indoor fireplace keeps it cozy. The game room has Ping-Pong, foosball, and pinball; the grounds boast a sprawling outdoor patio, hammock, mountain bikes, kayaks, and a pontoon boat for rent.
Flatrock House in Shandaken, N.Y.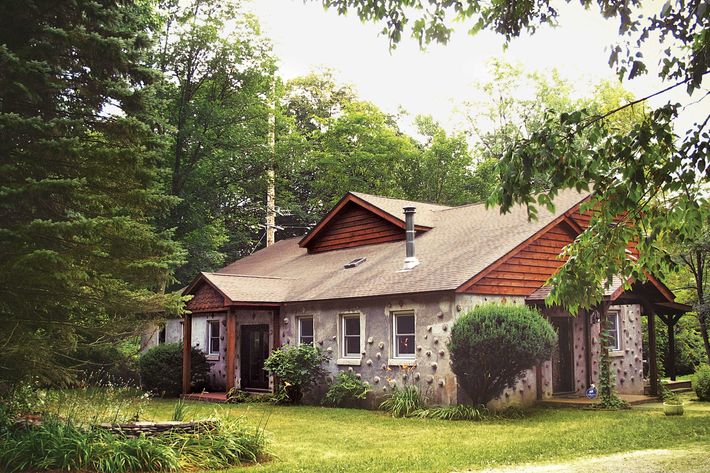 Time from New York: 2.5 hours
Number of people house sleeps: 10 people
Price: From $1,500 per weekend (up to six guests, plus $35 per night for each additional guest)
Booking information: airbnb.com/rooms/7453985
The details: A stylized Catskills hideaway burrowed on 8.5 acres with a private pebble beach. The 3,400-square-foot home has four bedrooms, two baths, an indoor wood-burning stove, outdoor fire pit, washer-dryer, game room, gas grill, and basketball hoop. Plus, it's just a stone's throw from the hip town of Phoenicia and the Flatrock swimming hole. The hosts — three pals from Brooklyn — can provide intel on private chefs, yoga instructors, etc.
Belleayre View in Fleischmanns, N.Y.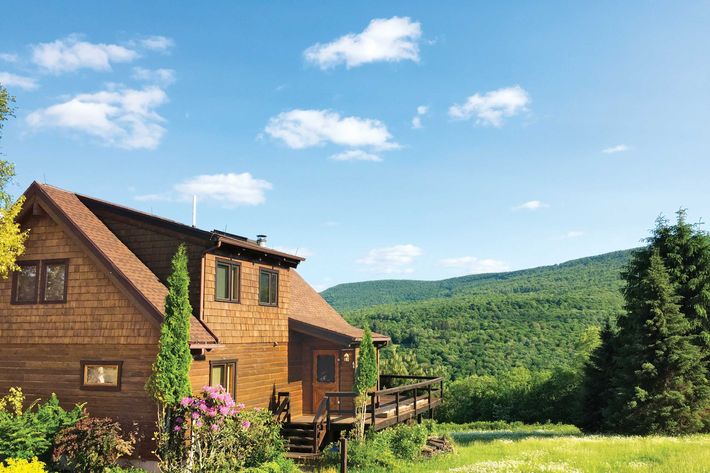 Time from New York: 2 hours 40 minutes
Number of people house sleeps: 8 people
Price: From $425 per night (two-night minimum)
Booking information: redcottageinc.com/belleayreview
The details: This three-bedroom, three-bath log home is set up on six lush acres in the Catskills. It beckons groups with an airy open kitchen, huge deck, hot tub, fire pit, barbecue grill, washer-dryer, and upright piano. Cue the Elton John impressions!
Bo Ssäm and a Bounce House
Everything you need for an epic weekend in the great outdoors.
Camping Gear
Traverse Outfitters rents out tents, sleeping bags, rucksacks, and trekking poles. Free delivery and pickup in Brooklyn and Queens are available for orders of $99 or more; $20 to and from Manhattan. 917-830-5419; traverseoutfitters.com
Karaoke Equipment
Porcci NYC's standard package includes a HealSonic karaoke system, two wireless mics, a tablet remote, mixer-amplifier, TV monitor, two speakers, and 25,000 songs. Attend an in-office demo and you can pick up the system on Friday and drop it back Monday for $395. 888-656-8889; porccinyc.com
Slow-Cooked Pork Shoulder
It's not a party without David Chang, right? The Bo Ssäm To Go pack (from $275) from Ssäm Bar includes a cured, glazed, slow-roasted pork shoulder big enough to serve eight, plus kimchee, dipping sauces, white rice, and Bibb lettuce. Pickup only. ssambar.momofuku.com
Next-Level Entertainment
Bring a photo booth, a dunk tank, a 16-player LED foosball table, a faux-rock climbing wall, or a bounce house, and you'll cement your place in the Party Planner Hall of Fame. NY Party Works rents them all and then some. Prices on request. 800-469-3866; nypartyworks.com
Bring a BB Gun
And other words of advice from those who've survived the woods.
Appoint a taskmaster
"I made a master list of everything I'd need for the weekend — every last boring item, including extra toilet paper, bandages, Gatorade, you name it. Then I divvied up everything equally among the guys and said, 'You cool with buying this?' " says Mike D. of Astoria. "Basically, tell everyone what to do and let them push back. They usually won't."
Invite experts to you
Carey P. of Cobble Hill's food-loving friends brought a cheesemonger to her "spatularette party" in Athens, New York. "He brought nine different kinds of cheese — all delicious," she says.
Check the local liquor laws
"Pennsylvania, for example, has weird liquor and beer laws, and many stores only let you purchase by the case," Mike D. says. "Decide if it's worth buying in New York before you head out."
Act like a 12-year-old
For Mike F. of the Upper East Side, the most memorable part of his buddy's bachelor party in the Catskills was throwing knives, shooting off BB guns and fireworks, and staging a World Series of Drunken Wiffleball. "We wanted to be secluded, bring back our college days, and just enjoy ourselves," he says.
*This article appears in the Winter 2017 issue of New York Weddings.