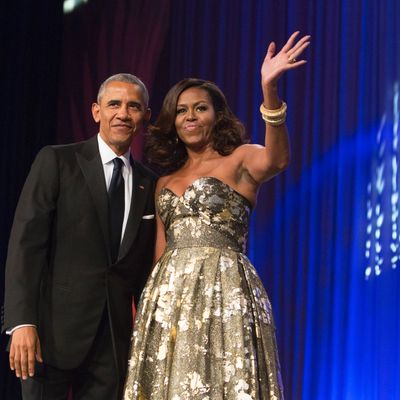 Barack and Michelle Obama.
Photo: CHRIS KLEPONIS/AFP/Getty Images
In today's uncertain political climate, some have wished that Michelle Obama might one day run for office — even though everyone close to the First Lady said not to get your hopes up. But in a new interview, President Barack Obama finally confirmed that we'll never see Michelle's name on a ballot.
President Obama sat down with Rolling Stone publisher Jann Wenner the day after the presidential election. The topic of whether Michelle would enter politics had been widely discussed in the media at that point, particularly after her string of incredible speeches in support of Hillary Clinton on the campaign trail. Wenner asked the president whether he thought Michelle should run for office. Alas, President Obama shut that line of thinking down once and for all:
"Michelle will never run for office. She is as talented a person as I know. You can see the incredible resonance she has with the American people. But I joke that she's too sensible to want to be in politics."
President Obama did say, however, that both he and Michelle will continue to be "very active" in politics at a grassroots level after they leave the White House, so at least we haven't seen the last of her.